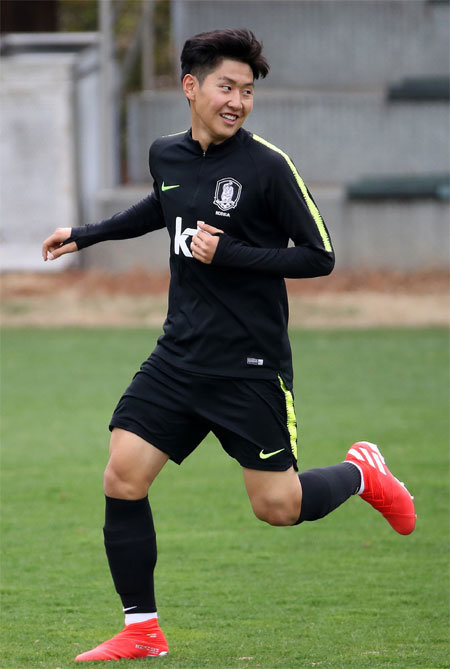 Lee Kang-in, South Korean footballer who plays in La Liga for Valencia CF, joined the rest of the national team's training camp squad for the upcoming FIFA U-20 World Cup on Tuesday. "The U-20 World Cup is where talented footballers from around the world are gathered. By preparing well in the run-up to the competition, I want to put up a good performance," Lee said in a press briefing held at the National Football Center in Paju.
The national team led by head coach Chung Jung-yong is gearing up for the 22nd U-20 World Cup, which kicks off in Poland on May 23. Started in 1977, the global championship is held biennially for the world's young footballers. World-famous players such as Diego Maradona (1979, Argentina), Lionel Messi (2005, Argentina), and Luis Figo (1991, Portugal) all rose to stardom at the U-20 World Cups. South Korea's best U-20 World Cup performance came in 1983, when they finished fourth in Mexico.
In the most recent 2017 edition held in South Korea, Paik Seung-ho (Girona FC) and Lee Seung-woo (Verona)'s skills were not enough to drive the team to reach the quarterfinals. This year, South Korea is set to face Portugal, South Africa and Argentina in Group F. Those landing in the first and second places in each group will advance to the next round, and the top four teams out of those who finished third will get an additional ticket.
The South Korean midfielder officially joined the training on Tuesday afternoon, but his status with the national team remains in doubt because Valencia has announced that midfielder Denis Cheryshev has been ruled out for the rest of the season with a knee injury. Since both Lee and Cheryshev are wingers, Valencia may be considering bringing back Lee to the club. Valencia earlier released Lee under the condition that it may ask Korea to return him in case of injuries to other players.
The 18-year-old rising star received his first call-up to the senior national team by head coach Paulo Bento last month, but had no chance to leave the bench during the two friendly matches at home. Still, it is highly likely that Lee will be a shoo-in at the upcoming competition for younger footballers. The national team is scheduled to depart for Poland on May 5 before the tournament.
Seung-Kun Lee why@donga.com