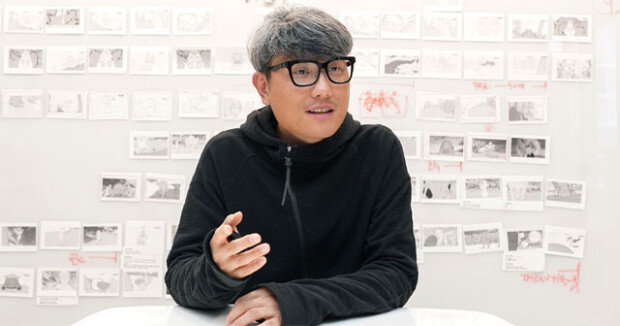 Director Ryu Gi-hyun had worked on overseas animation projects to build career in Korea's sterile animation industry for 10 years before working with Sony Studio in the U.S. in 2007. The 46-year-old animation director returned home last September with a title of an executive producer of a Netflix Original animation project.
After 10-year work experience in Korea, Ryu was able to learn advanced systems at the home of animation. He worked for leading animation studios in the U.S. such as Sony, Nickelodeon and DreamWorks and produced popular animations such as The Legend of Korra and Voltron: Legendary Defender.
This reporter met Ryu on Tuesday at the office of Studio Mir located in Geumcheon-gu, Seoul. He and his colleagues were absorbed in the Netflix Original project to be released in July. "It is so meaningful that everything except for the scenario is made in Korea," said Ryu. It is the first time that a Korean animation studio independently works on the entire production process as they have been only partially involved in animations produced by American studios.
What made him astonished the most in the U.S. was the virtuous cycle created by big capital and passionate fans. Animators actively communicated with their colleagues and fans with a sense of responsibility to produce successful contents.
"I consistently communicated with fans about the details or the work process of animations. It led to spin-offs and extended the lifespan of content," the animation director said. "Marvel is a prime example of this. Artists despair the most when their characters and stories die out."
Ryu's dream is to produce an animation in Korea, from story making to production, which is loved by global people. "I want to create contents that garner attention in the U.S. by blending Korea's delicate sensibility with the American culture," he said. "It is worth a try as the next generation producers are growing."
There is more room for Korean contents to advance into foreign markets due to the big bang of streaming services including Netflix, Apple and Disney. Ryu emphasized that resilience is essential to make the dream come true.
"A huge investment was made to produce "Akira," the famous animation, in Japan. Even though the animation failed commercially, 'Akira generation,' who learned advanced production skills, was created," Ryu said. "I believe experiencing failure over and over will eventually lead us to a good animation."
Seo-Hyun Lee baltika7@donga.com