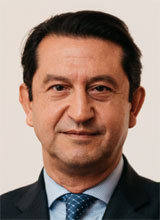 Hyundai Motor has appointed a former Nissan executive, who has a 30-year experience in global business operation and profitability, as its chief operating officer in an effort to recover its sales in North America. The South Korean automaker has been strengthening the role of outside experts since Chung Eui-sun was promoted to executive vice chairman of the company in September last year. This is the first time that an outsider has been appointed as a C-level officer of the company.
Hyundai Motor announced on Friday that it named Jose Munoz (picture), 54, as its global chief operating officer (COO), who will also take charge of the company's North American and Latina American operations. Munoz will assume four positions at the company from May 1 as he will also serve as the head of Hyundai Motor's U.S. regional sales office and the North American office chief.
Munoz, who is known in the industry as an expert in global business operations, started his career in as a dealer for Peugeot-Citroen in Spain in 1989 and worked at the Iberia office of Daewoo Motors and European office of Toyota before joining Nissan in 2004. Munoz worked in key positions at Nissan, including the head of the sales and marketing in European office, North American office, Chinese office, and chief performance officer (CPO). Hyundai Motor has highly appreciated his leadership and experience in the global market, which contributed to Nissan's record-breaking sales in overseas market including the United States and Mexico.
Hyundai Motor expects the newly appointed COO to boost global sales, optimize production, and devise business strategies. The first priority for Munoz would be to focus on reviving lackluster sales in North America.
"I am excited to join Hyundai Motor at this vital time in its history," said Jose Munoz. ""My capabilities around delivering steady profitable growth, managing the entire supply chain, and working together with our dealer partners to find win-win solutions match up well with the opportunity here."
"It appears Hyundai Motor is hiring outside experts, realizing that it needs help from outside to respond to fast-changing market and technological environment," said Kim Pil-soo, automotive engineering professor at Daelim University. "It is likely that the company would hire more outside experts down the road."
Do-Hyong Kim dodo@donga.com