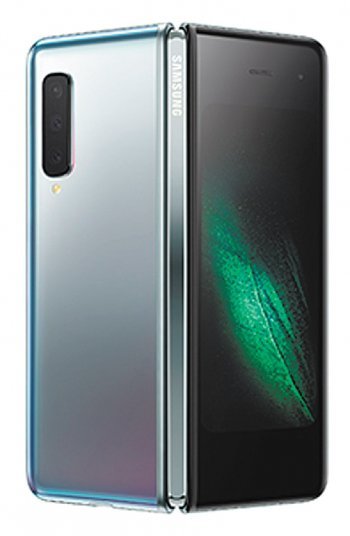 Samsung Electronics on Tuesday unveiled the specifications, such as the thickness, weight, and battery, of its upcoming "Galaxy Fold (picture)" slated to hit the domestic market next month. The tech giant's first foldable smartphone is slightly thickerㅡup to 6 millimetersㅡand 32 grams lighter than Huawei's foldable device.
According to Samsung Newsroom, the official communications channel of the company, the Galaxy Fold is 15.5-17 millimeters thick when folded with a gap of less than 1.5 millimeters, and 6.9-7.5 millimeters (including the frame) thick when unfolded. It weighs 263 grams.
Overall, the Galaxy Fold is a bit thicker but lighter than the Huawei Mate X. This 5G foldable model by Huawei, which will be released in July, weighs 295 grams and 11 millimeters thick when folded. The Galaxy Fold adopts an "in-folding" design, where it folds inside like a book, while the Mate X folds outside. The battery capacities of these foldable smartphones are similar to regular smartphonesㅡ4380mAh for the Galaxy Fold and 4500mAh for the Mate X.
The Galaxy Fold, being powered by Qualcomm's Snapdragon 855, features a 4.6-inch display when folded and 7.3-inch when unfolded. Samsung's newest, state-of-the-art smartphone has a total of six cameras including rear triple camera, cover camera, and front dual camera.
Dong-Jun Heo hungry@donga.com