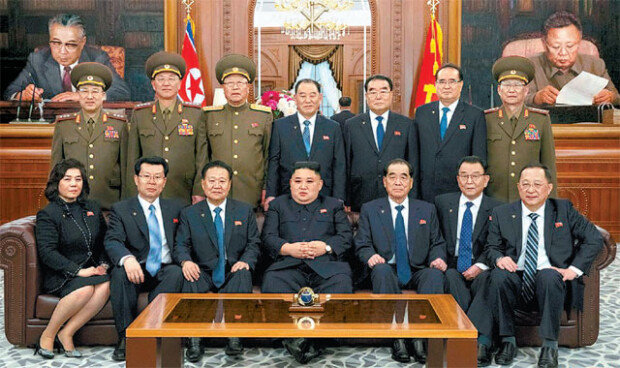 South Korean President Moon Jae-in, who had promised to sit behind the steering wheels of the Korean Peninsula right after he took office, is in a dilemma because of the power game between U.S. President Donald Trump and North Korean leader Kim Jong Un. The South Korean president is "sandwiched" between the two heads of state. Trump flatly turned down the "good enough deal" that Moon suggested in Washington. Even worse, Kim asked Moon to promote inter-Korean economic cooperation saying, "Be a part of the process, not a mediator." Insiders and outsiders of Cheong Wa Dae also say, "It is the most difficult situation since the denuclearization talks began."
"The South should not act as an 'overstepping mediator' or a 'facilitator' and should rather get its mind straight as a member of the (Korean) nation and boldly speak up for the interest of the nation," said Kim during a policy speech while attending the Supreme People's Assembly on Friday. It is a request to work more actively on economic cooperation between the two Koreas and follow-up measures for September 19 Joint Declaration in Pyongyang last year. But President Trump refused to resume the operation of the Kaesong complex and Mt. Kumgang tour, saying, "It is not the time yet." He also said he wants sanctions to remain in place saying, "I think that sanctions right now are at a level that's a fair level." "At this moment, we're talking about the big deal. The big deal is we have to get rid of the nuclear weapons," he added. He refused Moon's idea to persuade the North leveraging the support of the U.S. for the economic cooperation between Seoul and Pyongyang.
The South Korean presidential office Cheong Wa Dae has not announced its official response to Washington and Pyongyang yet. It plans to find a breakthrough in the fourth inter-Korean summit, which Trump agreed to, but Moon does not have a card to bring Kim to the negotiation table. If the Moon-Kim summit goes in vain, there could be "three consecutive no deals" after Hanoi and Washington.
Sang-Jun Han alwaysj@donga.com