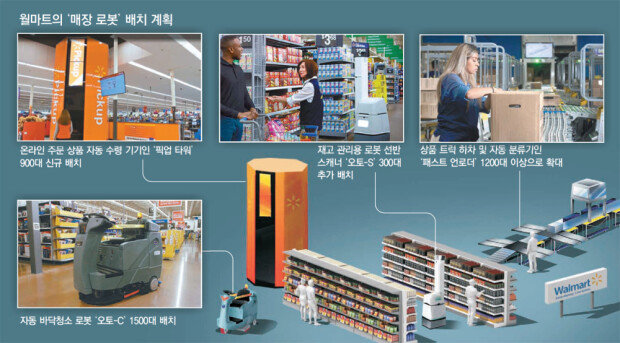 Walmart, the world's biggest retailer and America's largest employer, will increase the number of robots in its stores to monitor inventory and clean floors as part of its efforts to replace simple and repetitive human tasks.
Walmart will add 1,500 "Auto-C" floor cleaners and 300 "Auto-S" shelf-scanning robots to its 4,600 stores nationwide, according to the retail giant said Tuesday. The Auto-C autonomous floor-scrubbing robot navigates through the store to mop up floors. The Auto-S shelf-scanning robot travels around the store to check the stock and the price of products on the shelves. With the introduction of the robot, human employees will not have to manage inventory every day.
In addition, Walmart is planning to double the number of conveyor belts called "FAST unloader" to more than 1,200 in its stores. The conveyor belt, which unloads items off delivery trucks and sorts them automatically, will reduce the labor force required to unload and sort items from eight to four.
The introduction of robots is expected to ease the burden on the retail giant from increasing labor cost and allow it to put more labor force and capital into fast growing businesses, such as e-commerce. Walmart plans to install 900 "pickup towers" in its stores this year to let online shoppers pick up their products in-store. The retailer also hired over 40,000 employees to handle online orders and online grocery pickups.
The automation of Walmart stores is expected to spread to the distribution industry in other countries as well as the United States. The Wall Street Journal reported that retail companies hiring many low-skilled hourly workers are "increasingly looking to automation as they face higher labor costs and aim to improve retention amid the lowest unemployment in decades." Walmart raised minimum wages for its workers to 11 dollars last year.
Yong Park parky@donga.com