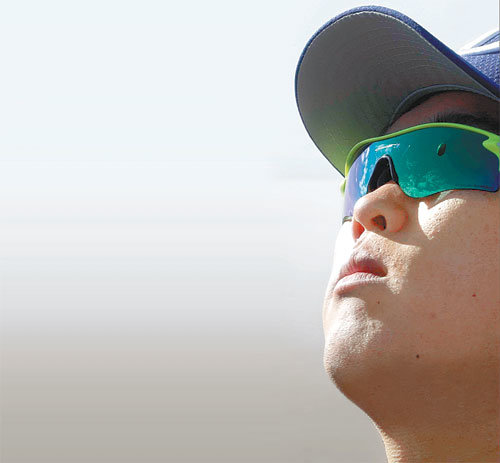 Park Chan-ho, 46, played a total of 473 games from his debut Major League Baseball (MLB) to his last game in Pittsburg in 2010. There is a record even this pioneer in Korean baseball could not set. The "Korean Monster" Ryu Hyun-jin, 32, will wear the same uniform as Park and set to reach a milestone in his 100th game in the big league.
The Los Angeles Dodgers said on Thursday that Ryu would start in an away match against the St. Louis Cardinals on Monday. It will be his 100th game in MLB and third game this season. In this match, Ryu will aim to become the first Korean pitcher in MLB to win first three games in a row, a record even Park Chan-ho did not have.
The odds are pretty high as Ryu performed almost perfect pitching in his two previous outings. He pitched 13 innings against a total of 47 hitters, striking out 13 and not allowing a single walk. In particular, Ryu has not given a single base on balls in 47 innings he pitched at home from the last season.
Although the Monday game will be an away match, expectations are high for Ryu's another victory since his pitching skills are at peak. Although he allowed a homer to Giants' pitcher Bumgarner in the sixth inning on Wednesday, it was not because he lost control. Rather, Ryu was saving his energy to pitch more innings. He was successful mostly pitching changeups, which consume less energy, and one mistake led to a homer. After that, Ryu threw more fastballs and did not allow a run in the seventh inning.
Ryu has a personal record of five straight wins from July 23 to April 14, 2013, followed by last season's five straight wins. If he becomes a winning pitcher against Cardinals next week, he would break his personal record of consecutive wins. All eyes will be on Ryu's shoulders next week.
Meanwhile, Texas Rangers' Choo Shin-soo got his 1,500th career hit in a match against the Los Angeles Angels on Thursday in 15 seasons since his MLB debut in 2005. Choo became the 28th MLB player playing today and the second Asian player after Ichiro Suzuki, who recorded 3,089 hits in 18 seasons, to reach the 1,500-hit milestone. The Rangers beat the Angels 11-4 with Choo having two hits and three RBIs.
Won-Joo Lee takeoff@donga.com