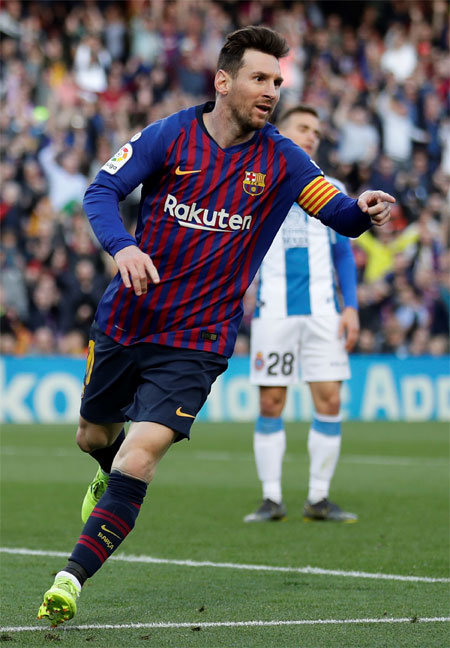 Barcelona's Lionel Messi scored two goals to lead his team's 2-0 victory over Espanyol in the 29th round of the Primera Liga, which took place at the Camp Nou in Barcelona, Spain on Sunday. He kicked an amazing free kick to secure the first goal at the 26th minute in the second half when the match was tying 0-0, before scoring the finishing goal with an assist from his teammate Malcom at the 44th minute in the second half.
Scoring his 30th and 31st goals in the league, Messi made his 41st goal overall for this season when including the eight goals in the UEFA Champions League and the two goals in the King's Cub, achieving the milestone of more than 40 goals scored per season for 10 consecutive years from the 2009-2010 season. While playing for Real Madrid, Cristiano Ronaldo of Juventus, one of the two pillars in the world of soccer along with Messi, scored 40 goals per season for eight consecutive seasons beginning in the 2010-2011 season. Ronaldo currently has a total of 24 goals this season, including 19 goals he has scored in the Serie A League of Italy as of Sunday. Thirteen ahead of teammate Luis Suarez, Messi has already become the top scorer in the league for three consecutive seasons and six seasons in total.
By gaining the Sunday winning, Messi, who made his La Liga debut in the 2004-2005 season, now equals FC Portu goalie Iker Casillas' record for career La Liga victories of 334 wins, 72 draws and 39 losses. Casillas posted 334 wins (87 draws and 89 losses) while playing for Real Madrid from 1999 to 2015.
Seung-Kun Lee why@donga.com