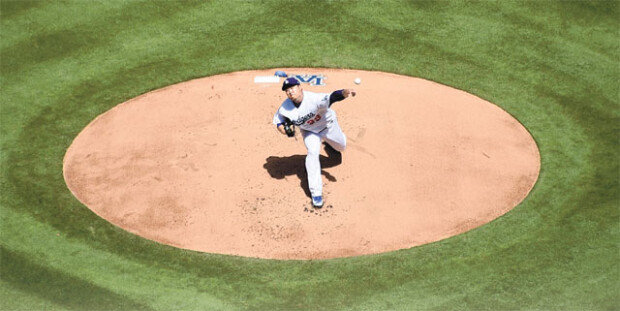 A game between the Arizona Diamondbacks and the Los Angeles Dodgers took place at Dodger Stadium in Los Angeles as an opener of the 2019 Major League. Pitcher Ryu Hyun-jin was the first Korean-born pitcher to start in a Big League game in 18 years since Park Chan-ho of then Dodgers in 2001.
Ryu had quality pitching by giving four hits and one run (including one homer) during six innings in the game against Arizona on the day, spearheading his team's landslide 12-5 win. With no walk and eight strikeouts, he had 59 strikes out of 82 pitches in total. Ryu was replaced with a substitute batter during offense in the bottom of the sixth inning, while his team was leading 7-1.
The 32-year-old South Korean displayed outstanding quality pitching on par with that of an "ace pitcher," which exceeded everyone's expectations. He also secured an overwhelming win in the duel of starting pitchers with Donald Zackary Greinke, the top-earning pitcher in the Major League Baseball. Greinke was replaced after giving seven hits including four homers, and seven runs in total during three and two thirds of innings.
MLB.com, the Major League's official website, said, "With Clayton Kershaw and Sandy Koufax watching and his teammates conducting their own Home Run Derby for support. Substitute starter Ryu Hyun-jin upheld the Dodgers' tradition of dominant left-handed pitching on Opening Day." Koufax is considered the best left-hander not only in the Dodgers but the entire Major League. Kershaw had served as starting pitcher in the opening game for eight consecutive years from 2011 to 2018.
The Dodgers' batting lineup also hit as many as eight homers, the most ever for an opening game of the Major League, robustly backing up Ryu's pitching. Eight homers in a single game also tie the most homeruns recorded in a single game, which the Dodgers hit in a game against the Milwaukee Brewers on May 24, 2002.
"I did not feel any burden about the opening game. I pitched confidently, fully trusting my body, because my physical condition was great," Ryu told reporters after the game. "I was able to pitch comfortably because my teammates backed me up by acquiring a flurry of runs since right after the game's opening."
Heon-Jae Lee uni@donga.com