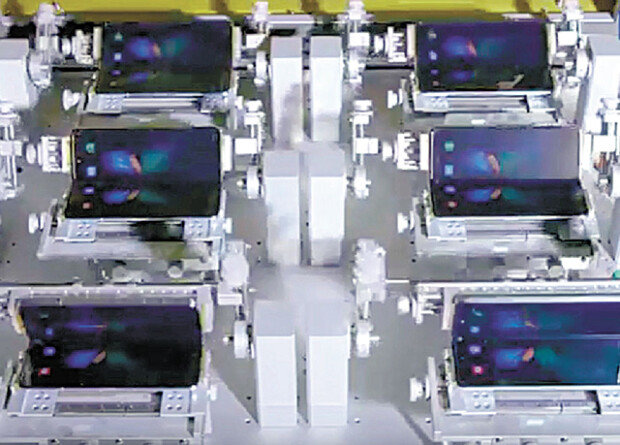 The test video of Galaxy Fold, Samsung's foldable phone was released on YouTube on Thursday. The video, which lasts for 34 seconds and taken at the company's reliability lab at the Digital City Complex in Suwon City, shows six robots folding and unfolding the phone several times.
"The test was done assuming that users would fold and unfold about 100 times a day for five years, which totals to 200,000 times," said an employee at Samsung Electronics. "It takes about one week to complete a test."
The Galaxy Fold is Samsung's first foldable phone that is 4.6 inches when folded and stretches to 7.3 inches when unfolded. It is an exceptional case for Samsung to release a test video prior to the launch. Experts say that it is a calculated move to dispel suspicions on quality, such as rumors of wrinkles on the screen, before the official launch scheduled in the U.S. next month. There were no wrinkles shown on the recent video.
The launch of the new phone will kick off in the U.S. on April 26 and across 15 European countries including the U.K., France and Italy on May 3 and Korea in mid-May on a 5G platform. It will be retailed for 1,980 dollars and 2,000 euros, respectively in the U.S. and Europe. Its price in Korea will be similar at around 2.4 million won.
Tae-Ho Hwang taeho@donga.com