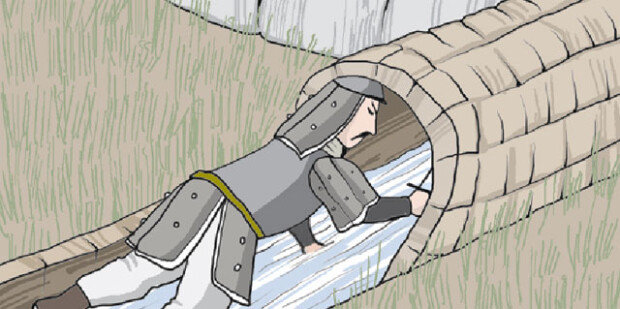 No matter how impregnable a fortress might look, it always has its weaknesses. There is no need to look at its drawing and think of a way to tear its defenses down. A soldier, who lived in those times, would know what its weakness is: It is the drain. All fortresses need the drain. Otherwise, the ramparts would collapse because of the water pressure. Sometimes, a stream flows out of a fortress. In this case, the fortress needs a floodgate instead. Where there is a floodgate, the weather is cool in the summer and the view is nice, but it becomes a dangerous battlefield if a war breaks out. During the second Manchu invasion of Korea in 1636, the Uiju Fortress, the first battlefront at the border, was easily captured by Qing soldiers as they sneaked into the fortress through the drainage hole and opened the gate of the fortress. If the Uiju Fortress had not been taken at least for a week, the war would have developed differently.
In the war history of other countries, there were also cases, where infiltration into a fortress through the drainage hole changed the results of a war. Blocking all drains was not the solution. From the ancient times, fortress designers had come up with various ideas to prevent infiltration through the drain. The drain of the Samnyeonsanseong Fortress in Boeun, North Chungcheong Province, is bent in shape in order to prevent enemies from bringing in weapons, such as spears. Acropolis, where the Parthenon is located, is a stronghold defending Athens. The drain at the Parthenon is also bent like the one at Samnyeonsanseong Fortress. Other fortresses used different designs to prevent infiltration from enemies. Some drains have barbed-wire fence in the middle and others have a deep water tank in the middle to drown infiltrators. Other ways include digging a deep culvert under the rampart and connecting it to the river to hide the drain.
No matter how brilliant an idea is, what is made by human beings can also be destroyed by them. This is the sad and great truth in life. A war continues even during peaceful times. New ideas and technologies are developed, destroyed, modified, and created again. Some say this is a waste of time and resources and even an irregularity. But the truth is the opposite. Humans can eat and wear the same thing for the entire life if they have the patience to endure it. But when it comes to a war, the moment we think "this is good enough," we go into the road of defeat and destruction.