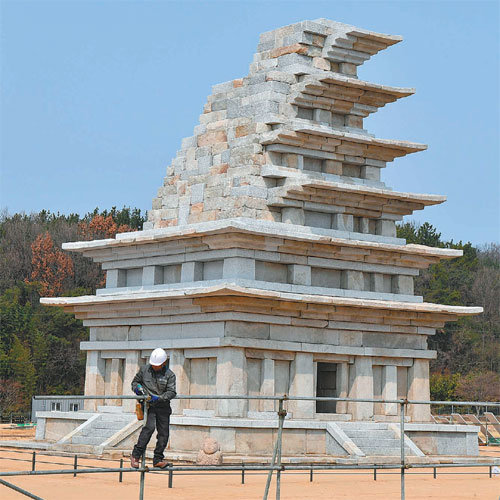 The oldest and largest stone pagoda in the Korean Peninsula will be open to the public from Saturday after 20 years under restoration.
The National Research Institute of Cultural Heritage said Thursday that it completed the removal of temporary installations used for the dismantlement and repair of the stone pagoda (National Treasure No. 11) at the Mireuksan temple in Iksan, North Jeolla Province. The restored structure is the west pagoda among the three ones that constitute the temple and is characterized by some 2,800 stone blocks interplaced as if on a wooden pagoda.
However, the Board of Audit and Inspection said the same day that the restoration work was not carried out properly without going through the process of preliminary examination for maintaining the original shape. The state agency disclosed the results of its audit, arguing that the Cultural Heritage Administration promised to use new stone materials on the interior of the pagoda but actually reused previous materials on the third floor or above.
The Cultural Heritage Administration said the restoration was implemented in accordance with the principles of reusing the original as much as possible, stressing that the longest restoration process meant that the restoration was one of the longest restoration work that has taken more than 20 years.
Won-Mo Yu onemore@donga.com