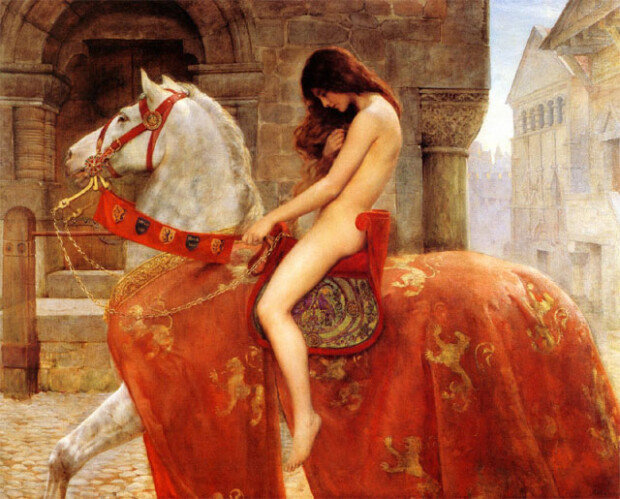 Voyeurism is the sexual interest in or practice of spying on people engaged in intimate behaviors, such as undressing or sexual activity. The origin of "Peeping Tom," a voyeur, comes from the legend of Lady Godiva. Many artists created artwork based on this legend, but British artist John Collier of the 19th century is most well-known. The young beauty passes by a village riding a white horse in nude. With her head held low, she tries to hide her body with her long hair, but to no avail. Why was the lady, the lord of Coventry and countess, was placed in such an embarrassing situation?
Her husband Leofric was resented by the Coventry people for levying heavy taxes. The villagers went to Lady Godiva, who was very sympathetic and asked her husband to alleviate the taxes. The earl grew tired of his wife's countless pleas and said that he would grant her request if she would strip naked and ride through the streets of town. He knew that his wife, who valued dignity more than anything else, would never consider the request. But Lady Godiva took him at his word to help the villagers, who agreed to stay indoors with windows closed and not to look. Everyone promised not to in respect and gratitude for the lady's sacrifice. Everyone, except for the villager's tailor, Tom.
What happened to Tom? The story goes that he became blind or faced a painful death. The villagers believed that he was cursed for disgracing Lady Godiva's noble act by sexual curiosity. He was pitied by no one.
yes@donga.com