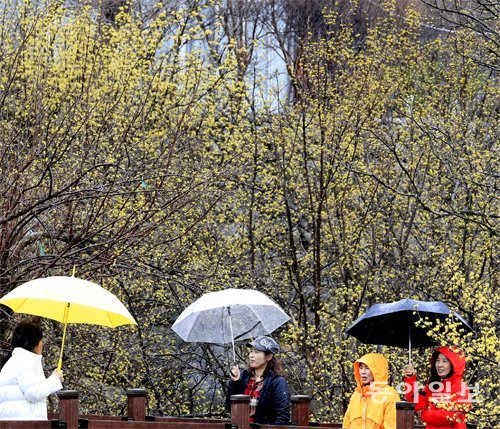 This week is expected to see lower levels of fine dust across the country, due to low pressure which will arrive with rain and strong winds. The last cold snap is in store from Wednesday.
The National Institute of Environmental Research has forecast that the concentration levels of particulate matter less than 2.5 micrometers in diameter (PM2.5) will be "bad" (as in the range of 26 to 50 micrometers per cubic meter) in most regions Monday. Weak winds will make the ultrafine dust remain still, and in the afternoon, fine particulate matter is likely to be blown from China and other countries. Yet, this week's fine dust concentration is not likely to reach a level that would prompt emergency measures.
With the stronger atmospheric flow, fine dust levels are forecast to remain "normal" or "good" on Tuesday. Rain is in store for Tuesday in central regions including the Chungcheong and Jeolla provinces, while the entire country is expected to be soaked with rain on Thursday. A temporary cold snap accompanied by winds and a sub-zero morning temperature will hit the country Wednesday.
kej09@donga.com