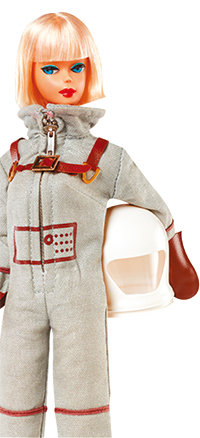 The philosophy behind Barbie is that you can be anything. The doll's creator and Mattel's co-founder Ruth Handler said in 1959 that girls can be anything they want and Barbie represents women's right to choose.
The 60-year-old Barbie's message resonates until today. Though the doll with an ideal body figure has come under fire for distorting what makes for beauty, its manufacturer has confronted with such criticism by highlighting women's infinite potential.
Last year, Mattel promoted the "Dream Gap Project," aiming to narrow the gap regarding treatment by gender that girls may be faced with. It has raised fund for the project by donation one dollar for each doll purchase while doing research on social obstacles that block potential in women.
Improvements in fixing gender stereotypes is one of the significant achievements made by Barbie. A variety of Barbie fashion styles have made women's various efforts to get unconventional jobs taken for granted. The history of Barbie's jobs intrigues interest. In the 1960s, Barbie dolls turned into nurses, flight attendants and others that were conventionally thought of as women's careers. However, change started to happen as Barbie became a surgeon in 1973. The dolls transformed into CEOs, pilots, policemen and other "masculine" careers. Recently, the doll's jobs have varied to car racers and computer engineers. In celebration of its 60th anniversary, Mattel has released Barbie scientists such as astrophysicists, marine biologists and entomologists in order to gather girls' attention to the scientific world where women are outnumbered by men.
Professor Sherry Agnes of the Department of English at Miami University said that baby dolls made young girls think that becoming a mother is a natural thing. Barbie encouraged young girls to explore various careers and see the beauty of navigating an interesting and exciting world.
Meanwhile, the doll has been harshly criticized for setting gorgeous white women as the standard of beauty. Mattel released non-white dolls including black Barbies. In 2016, it produced more realistic versions such as chubby and shorter-height dolls. Furthermore, the company announced Barbies in a wheelchair or with a prosthetic leg.
Mattel's strategy took off. Even with the toy market shrinking due to the growth of digital entertainment goods, Barbie saw sales increase by more than 24 percent in the first quarter of last year year-on-year. Barbies are still enjoying wide-rage popularity. CEO Richard Gottlieb of toy industry consultancy Global Toy Experts analyzed that the recent transformations in Barbies have been well received by parents who want their children to learn the diversity in people's looks while play with toys.
Jee-Young Kim kimjy@donga.com · Hong-Gu Kang windup@donga.com