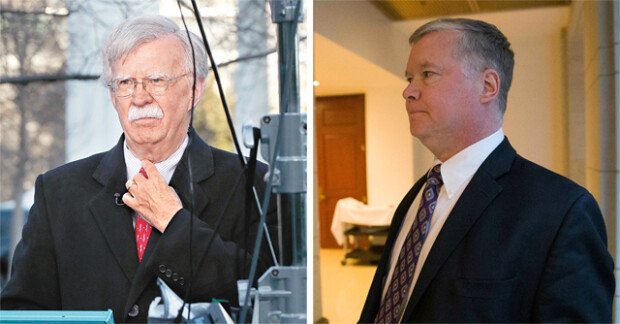 U.S. President Donald Trump's national security adviser John Bolton said on Tuesday (local time) that Washington has may consider a tightening of sanctions against Pyongyang if it does not go nuclear-free.
Not only the hawkish national security adviser but also U.S. Secretary of State Mike Pompeo has mentioned North Korean human rights issues on the day. Separately, the U.S. Congress showed some moves to strengthen North Korean sanctions. Such developments imply that the U.S. keeps its doors open to dialogue with the North while putting sanction-related pressure on it.
Bolton told Fox Business Networks that President Trump made it clear to North Korea that it will never be possible to be free of the excruciating economic sanctions that it has been faced with if North Korea refuses to pursue denuclearization. He added that the U.S. wouldn't buy the same pony that they've sold to previous administrations, calling on North Korea to revisit its strategies.
U.S. pressure on North Korean human rights issues is only to grow for some time. Secretary Pompeo made remarks on Saturday regarding the death of Otto Warmbier, the U.S. college student who died after spending 17 months in a North Korea jail, saying that Pyongyang's infringement of human rights has been a chronic issue and the U.S. tries to fix and correct its wrongdoings. In a TV interview, Pompeo said that President Trump is aware of who is held accountable for his death and it is the North Korean regime who is responsible for it. This seems to mitigate criticism over President Trump's remarks. Previously, it was reported that when North Korean leader Kim Jong Un told Trump that he was not aware of Warmbier's death, Trump said he believed Kim. The U.S. State Department released the details of an interview dated March 2 three days later.
The U.S. Senate has recently introduced a bill regarding a secondary boycott to be imposed on any overseas financial institute, business or individual that contracts with North Korea for violations of the North Korean sanctions regulations. Democrat Chris Van Hollen and Republican Pat Toomey of the Senate Banking Commission jointly proposed a bill named "Otto Warmbier Banking Restrictions Involving North Korea (BRINK) Act." It was first introduced in the 115th Congress at a time when tensions were growing due to North Korean nuclear and missile provocations back in 2017. As the session was finalized, the bill was automatically discarded late last year. The re-introduced bill is named after Warmbier to commemorate his death.
Sen. Van Hollen's aides explained that under this bill, any individual and business shall face strong sanctions in case of any transaction with North Korea on coal, iron and textile, enabling the international law to be effectively implemented. The Democrat senator released in a statement that there only is a growing need for the U.S. Congress to take a stringent position after the second U.S.-North summit ended up fruitless. Sen. Toomey said that the U.S. government should make North Korea give up on its nuclear ambitions by implementing economic sanctions, adding that businesses would have no option but to choose to transact with either Washington or Pyongyang.
lightee@donga.com