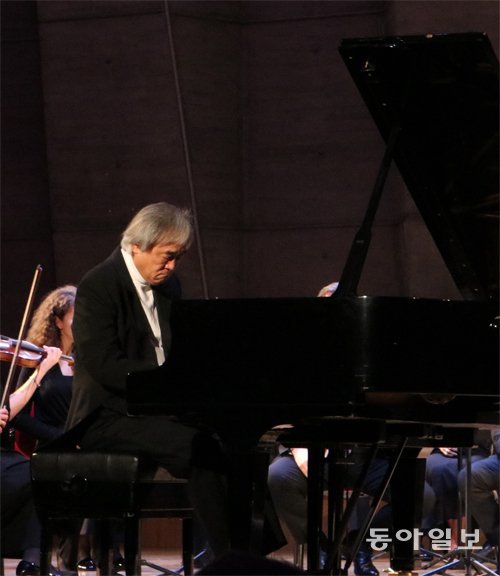 Famous pianist Baek Gun-woo released on Tuesday an album that entails the complete Chopin Nocturnes, which was recorded at Tongyeong concert hall in South Gyeongsang Province last September.
The 72-year-old pianist plans to open a recital tour across the country to perform six pieces in the Chopin Nocturnes and the ballade No. 1. Starting from next Tuesday at Mapo Arts Center in Seoul, he will tour 11 cities to end up at Ansan Art Center in Gyeonggi Province on April 20. On his tour, the veteran pianist will perform Tchaikovsky's Piano Concerto No. 1 in collaboration with the Russian State Symphony Orchestra in three venues including Lotte Concert Hall starting from April 2.
Baek shared his thoughts on his new album and recitals at Mapo Arts Center on Tuesday. Aspiring to navigate through Chopin's music from a new perspective, the pianist said he started to dig into pieces of those who were influenced by Chopin. Then he returned to the Chopin Nocturnes. "I've come back to study his nocturnes as they represent Chopin's music philosophy the most," he said.
Chopin did not prefer performing at a large-scale hall. He played the piano at a small salon or with a small group of his friends in presence. He loved to share introspective ideas, Baek says.
"Chopin sometimes played the piano too quiet to hear it clearly according to those who listened to his performance in person," Baek said. "However, Chopin's music resonated with the hearts of the audiences." Baek's remarks remind us of Chopin's low-pitch voice tone.
Baek's new album does not follow the traditional order. It starts with No. 1 but goes to No. 11, No. 12, and No. 2. "Chopin did not intend all the pieces to be played in that exact order," Baek said. "What matters is to allow music to work its magic, not to number and list up each piece."
gustav@donga.com