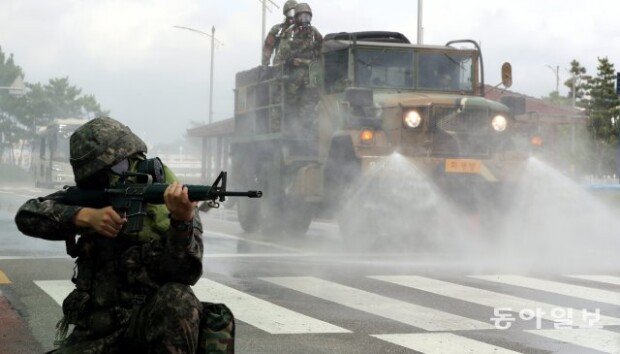 "The United States demanded at the recent summit that North Korea abandon its biochemical weapons. Apart from nuclear weapons, I'd like to ask whether the South Korean government is responding to North Korea's biological and chemical weapons and whether it can protect the South Korean people from such weapons, which can serve as a threat to the country's security." This is what Park Ki-beom, a student at the Department of Political Science and International Relations at Seoul National University and a member of the SNU Student Association of Korean Peninsula Affairs, told Yang Uk, who heads the WMD Response Center of Korea Defense and Security Forum. The following is Yang's explanation.
It's an insightful question. Biochemical weapons are weapons of mass destruction (WMD) that even poor countries can easily produce. This is why they're often called a poor man's nuclear weapons. They also boast the greatest economic efficiency. Let's say a weapon's capacity to kill or wound people in a unit area can be converted, and conventional arms cost 100. While nuclear weapons would require 50 to 60, chemical weapons would only need 10 to 20 to have the same result.
Biochemical weapons are a clear, present threat, just like nuclear weapons. Currently, North Korea is No. 1 in terms of the possession of chemical weapons, while the Republic of Korea joined the Convention on the Prohibition of the Development Production Stockpiling and Use of Chemical Weapons and on Their Destruction (CWC), which took effect in 1997, and accordingly dismantled all chemical weapons in 2008. North Korea's will to use chemical arms any time was demonstrated when North Korean leader Kim Jong Un's half-brother, Kim Jong Nam, was killed in 2017.
Biological weapons are basically easy to use as they are comprised of virus or bacteria. However, most armed forces don't count them as valid weapons since it's not easy to control them for military purposes. Still, it is possible that North Korea would employ biological weapons for a military purpose. According to the 2018 Defense White Paper released by the South Korean government, North Korea is capable of culturing and producing various types of biological arms on its own, such as anthrax bacillus, smallpox, and the plague.
Anthrax Bacillus is particularly likely to be used for a military purpose by the North since the area and scope of its usage can be controlled, as seen in the 2001 anthrax attacks in the United States. With the notable development of the country's biotechnology and chemical industry, North Korea will be able to apply the advanced technology to its system of weapons.
In the meantime, South Korea, through the Armed Force CBR Defense Command, has continuously enhanced its capability to prepare against various biochemical wars. Armed with protective equipment against CBR agents, the South Korean forces are capable of fighting enemies even in biochemical wars.
However, the current system has a blind spot about protecting individuals from a possible biochemical warfare. How many households would have a gas mask or a protective clothing in preparation for a biochemical warfare? With its policy objective of national security being the "realization of a society that protects the safety and life of people," the South Korean government should demonstrate leadership in terms of protection against CBR agents.
Biochemical weapons used to be tactical means employed only along the front line, but are now more likely to be strategically used due to the development of missiles and other projectiles. The United States is now primarily engaged in negotiations for the denuclearization of North Korea, but there's no principal player that discusses the regime's biochemical weapons. Leaving out biochemical weapons while having a dialogue with North Korea regarding disarmament is an act that overlooks the key aspect of the issue.