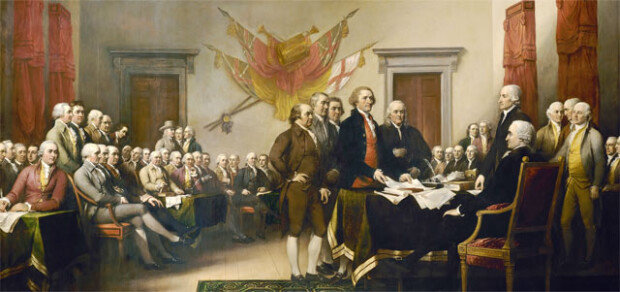 Currency designs reflect the history, culture and founding principles of a nation. The two dollar bill of the U.S., known as a token of luck, has a famous picture engraved that signals the spirit of independence. It is John Trumbull's "Declaration of Independence."
Known as the "Painter of the Revolution," Trumbull drew many historical paintings with the U.S. Revolutionary war themes. Born as the son of governor, he participated as a soldier in the American Revolutionary War and worked as a personal aide to George Washington. This large painting, which stretches across five meters, depicts a scene of the leaders of the 13 colonies submitting a draft of the Declaration of Independence to the Congress in 1776.
He drew 42 of the 56 signatories to the declaration, including John Dickinson, who refused to sign, as well as other debaters. The tallest man submitting the Declaration in the middle of the painting is Thomas Jefferson, the third president of the United States. Known as a founding father of the U.S., he drafted most of the declaration and depicted on the front of a two-dollar bill. To his right stands co-author Benjamin Franklin, to his left is John Adams, who became the second U.S. president.
The Independence of Declaration states that "all men are created equal, with the rights to life, liberty and the pursuit of happiness" and that "whenever any form of government becomes destructive of these ends, it is the right of the people to alter or abolish it and to institute a new government". It goes on to list 27 colonial grievances against King George the Third and declares the rights of the United States as an autonomous and independent country.
The declaration itself did not mean independence, however. Just as freedom is never free, it took eight years of armed struggle after the declaration for the U.S. to achieve complete independence. The historical scene of the declaration engraved on American currency is a reminder of values of freedom and independence in everyday life.