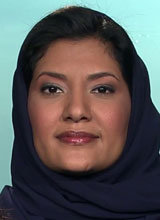 Saudi Arabia has appointed a princess in her 40s as its first female ambassador to the United States. Arab News reported Saturday that Princess Reema bint Bandar Al Saud was named as an ambassador to serve in the United States in a royal decree issued by Deputy King Prince Mohammed bin Salman.
Princess Reema is a daughter of Bandar bin Sultan Al Saud, who served as the kingdom's longtime ambassador to Washington from 1983 to 2005. She had accompanied her father and lived in the United States when young, but has no experience in diplomacy to speak of. This is why her appointment is being seen as the country's attempt to improve its image by showing that they are open-minded about and committed to the progress of women's rights and their participation in society.
As a leading advocate of female empowerment in Saudi Arabia, Princess Reema has worked to promote women's rights across the public and private sectors. Having earned a bachelor's degree in museology from George Washington University, she came back to her country to run a fashion company. In 2016, she worked at the kingdom's General Sports Authority and also headed a sports federation of the nation.
Dong-Il Seo dong@donga.com