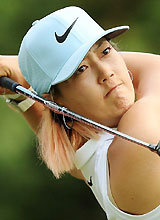 Professional golfer Michelle Wie has returned to the field after a surgery to her right wrist last October. She will make her 2019 debut this week at the Honda LPGA Thailand.
The former child prodigy, who spent a dominant time in her teens, did not live up to expectations in her 20s. Suffering from frequent injuries and irregular putting, Michelle Wie claimed only five LPGA Tour titles including her first major in the 2014 U.S. Women's Open.
"I don't think I have reached my full potential yet," the 29-year-old told The Straits Times of Singapore during a recent interview. "Hopefully, the best is yet to come."
"I made mistakes in the past, and of course there are things I want to change but everything that happened, good or bad, has shaped me to become who I am," said the world No. 32. "In order for me to become world No. 1, I just have to keep doing what I'm doing, be healthy, injury-free and hopefully that will happen."
Jong-Seok Kim kjs0123@donga.com