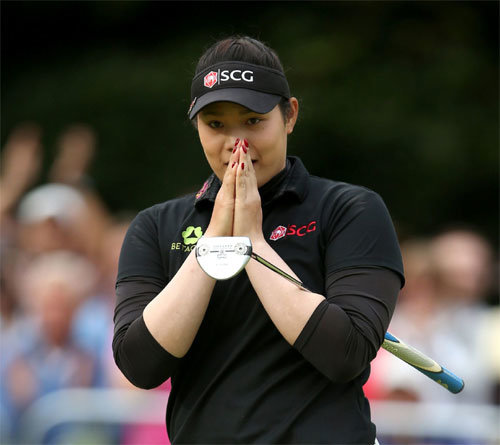 Park In-bee garnered a winner's trophy in Korea last year for the first time in 10 years. Even as a 19-time champion – seven victories in major championships - as well as an Olympic golden medalist, Park often failed to win a Korean championship due to excessive media attention and mental pressure.
Ariya Jutanugarn, who currently tops the world's ladies golf, may feel the same way as Park. It does not seem that she is in the best condition as the Honda LPGA Thailand is scheduled on Thursday at Siam Country Club (par-72) in Chonburi, Thailand.
As the youngest golfer to join the Honda LPGA Thailand, the only tour held in her home country, at the age of 11 in 2007, Jutanugarn has tried to grab the winner's trophy nine times, only ended up in a failure. The most heart-breaking moment was displayed back in 2013. Leading by two strokes, she drove Thai fans into excitement. However, she collapsed in tears with a triple bogey at the 18th hole. It was Park to whom Jutanugarn lost.
The 10-time LPGA Tour winner has not earned any title unfortunately not only in Thailand but also in the rest of Asia. It is regrettable for Jutanugarn, who was awarded last year's major awards such as the player of the year, the top ranker on the money list and the lowest-scoring average player. The No. 1 female player in the world said that she hopes to win an Asian championship, adding that it would be the best-ever moment to make it come true this week in her home country.
World No.2 Park Sung-hyun is to be in the field at the championship for the first time this season. The LPGA tour has picked up Park Sung-hyun and Moriya Jutanugarn, Ariya's sister who ranked among the top 10 for two consecutive years, as players worth attention.
Jong-Seok Kim kjs0123@donga.com