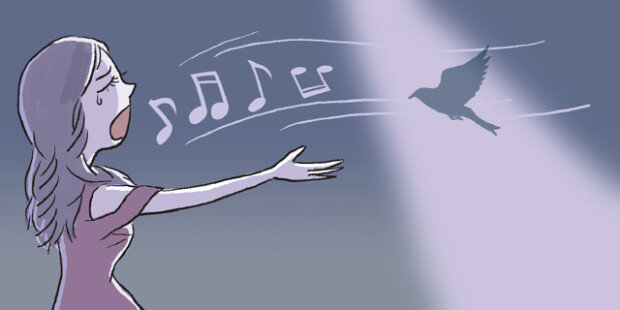 A musical performance ended up with thunder-like cheers. "Let me pray for my father. This morning, his funeral was held in Korea. However, I am here to perform tonight," a singer said to the audience just before an encore. "I don't know whether it is right but my father must be happy to see that I sing tonight for you. Thank you for being with me tonight. I will never forget this moment. Let me pay tribute to him."
Then, the audience realized that she was on stage despite her father's death. The encore song was Schubert's Ave Maria. With a gentle smile on her face, she sang according to piano accompaniment. She sang "Oh, Listen to a Maiden's Prayer" in original German. Then, she recited "Ave Maria, Gratia Plena" in a Latin prayer. The Latin lyrics in the Catholic song for Sáncta María impressed the audience deeply. Her voice per se was a desperate plea as well as prayer.
Originally being on a sad note, Schubert's Ave Maria was sublimated into a prayer that delivered her deeper grief to the bottom of the audience's hearts. Her saddening voice resonated with them. They responded with a big round of applause for more than 10 minutes. With her hands clasped tightly, she turned around and wiped her tears. She celebrated the moment with other performers with her forehead in slight touch with their cheeks. It was a gesture of self-restrain.
The audience consoled her grief and sympathized with her by giving a standing ovation to her. Anyone at the hall must have experienced or would face a loss of their beloved ones. They felt as if they were in her position. It was Grammy Award-winning Korean soprano Jo Su-mi who sang Ave Maria in great grief in Paris in 2006.