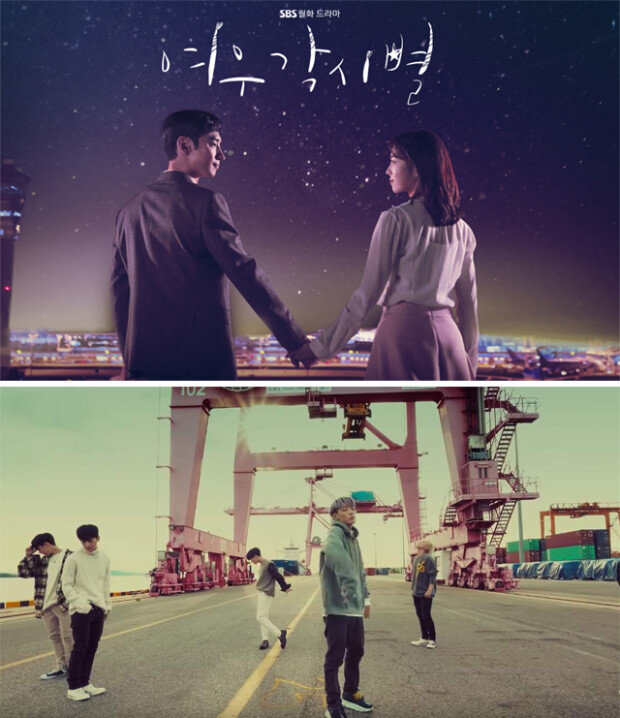 An abandoned factory building at Incheon city's mud flat harbor, Manseok Pier, has recently been frequented by various shooting crews for movies, soap operas and music videos. The venue has been a backdrop to 12 film productions including SBS drama "Fox Bride Star" and music videos of a girl band and a rapper over the three months. The factory building used to be a production facility for generators and transformers. Since the company relocated to South Chungcheong Province, the factory has been left vacant for the last four years. A total of 10 units, as wide as 3,000 square meters, have been used as a filming studio since last September. Each part of the factory complex was built in various times from the Japanese colonial era through to the modernization period, which gives it uniquely vintage vibes. A premanufactured soap opera titled "Four Men" has just begun shooting at this venue.
Not only this abandoned factory but also various places across Incheon City have been spotlighted as location shooting sites. "Bando," a sequel to "Train to Busan," and a soap opera "Different Dreams" are currently shot at an old Joyang textile factory located in Ganghwa Island, Songdo International Business District, and Wangsan Marina in Yongyu Island. Also, new releases "Extreme Job" and "Hit-and-Run Squad" were shot around Baedari in Incheon's Dong District and Songdo International Business District.
Incheon is growing as a new movie heartland to rival Busan. The Incheon Film Commission said Monday that filming shoots are increasing in Incheon and more support projects will be expanded to attract more shootings to the city.
The commission provides financial assistance to attract filming teams. It covers 20 to 40 percent of shooting expenses spent during an intra-city shooting if an overseas film is shot in Incheon. Incheon City offers up to 100 million won to a film that is shot in Incheon for five to 15 times. More than 15 rounds of shooting get extra amounts. The commission has also taken measures to assist Korean movie and drama project teams including accommodation costs worth two million won per project. Famous Korean soap operas "The Guardian," "A Korean Odyssey," and "Voice 2" received such assistance during their shootings in Incheon.
Last year saw 138 films and more than 500 rounds of shooting, the background or the shooting site of which is Incheon city, thanks to the commission's efforts. The number has increased constantly from 103 in 2016 and 118 in 2017. Given that 124 films were shot in Busan, Incheon exceeded Busan," the commission said. "We plan to build film-exclusive studios that can be connected to shooting assistance in the airport, ports and modern buildings."
Also, the commission's plan is to outdo Busan not only quantitively but also qualitatively. It is determined to grow the Diaspora Film Festival, which celebrates the 7th anniversary, to rival the Busan International Film Festival. Films that describe the lives of immigrants compete in the Diaspora Film Festival. It was awarded a commendation from the Culture and Tourism minister last year, showing its presence in the movie field. Scheduled from May 23 to May 27, the festival will invite and award movies in the non-competition field. The winners will be selected by discussion sessions, forums and other various events with marriage immigrants, immigrant workers, refugees, North Korean defectors and foreign students.
"The first-ever Korean emigrants left the country from Incheon in 1902 and the largest number of foreigners live in Incheon," said Kang Seok-pil, secretary-general at the Incheon Film Commission. "More than 60 films have been invited to the movie festival this year from all around the world."
Hee-Jae Park min07@donga.com