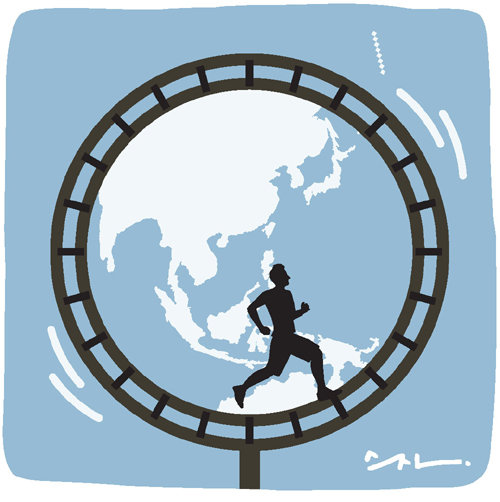 South Korean Defense Minister Chung Kyung-doo said on Saturday if a Japanese patrol aircraft conducts a threatening flyby, "Our military should sternly and legitimately respond in accordance with our military's response guidelines." The South Korean foreign ministry summoned the Japanese ambassador to Seoul on Friday and lodged a complaint about a Japanese patrol aircraft's threatening "8-shape flying" over the South Korean naval destroyer Daejoyeong on Wednesday. Even so, the Japanese defense minister visited a Japanese Self-Defense Force base operating a fleet of patrol aircraft on the day, and instructed the base to "step up surveillance activities." A month has passed since tension erupted between South Korea and Japan over "Japanese patrol plane's threatening flyby" in late last year, but it is doubtful whether the governments have any commitment to resolve the dispute.
Despite being defense partners, the two governments are rapidly heading towards a collision course, but there are no signs of disruptions in private sector exchange and cooperation, which is fortunate. The number of Japanese tourists who visited South Korea reached 2.92 million last year, up 28.1 percent year on year, to post the biggest annual growth in nine years. The influence of K-pop culture also remains strong among the Japanese people, if not as robust as the time when the TV drama "Winter Sonata" gained immense popularity in Japan. The number of South Koreans who toured Japan hit an all-time high of 7.53 million last year, up 5.6 percent year on year. A memorial ceremony took place at Shin-Okubo Station in Tokyo on Saturday to honor South Korean Samaritan Lee Soo-hyun who sacrificed himself to save a Japanese national there 18 years ago. "Now is time when we truly need Lee Soo-hyun spirit," said Japanese citizens who were attending the ceremony.
"Bilateral tension over patrol aircraft's flybys" would be an issue that they could have diplomatically resolved by checking the actual situation if it happened when the two nations are in normal bilateral relations. It is politicians' responsibility to figure out as soon as possible what actually happened and to find a clue to resolving the disagreement based on the General Security of Military Information Agreement, a pact the two countries signed in 2016 to exchange military intelligence. If the Japanese prime minister has any intention to take advantage of the South Korea-Japan dispute to secure his own interest in Japan's domestic politics, he will face stern judgment. In South Korea, the government and politicians are also reluctant to spearhead efforts to resolve the tension due to the special nature of South Korea-Japan relations. While the bilateral relations between Seoul and Tokyo are directly heading towards a collision course, the tension should not cross the "red line" to extinguish glimmers of hope that remain in the private sector. South Korea and Japan have had historical disputes stemming from Japan's colonial rule of Korea, but they achieved economic miracles after the Second World War and the Korean War together, and they have many more things to jointly achieve in the years to come as cooperative partners in national security and economy.
Ja-Ryong Koo bonhong@donga.com