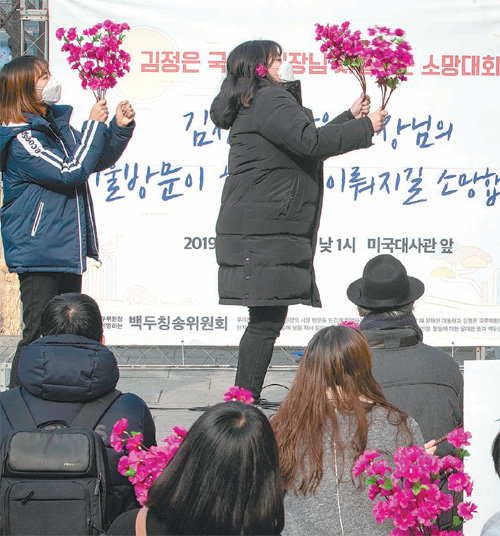 A rally has been held in central Seoul to call for North Korean leader Kim Jong Un's reciprocal visit to South Korea. Participants shouted anti-American chants, calling the U.S. Forces in Korea "a fundamental obstacle to reunification."
Around 30 people attended the rally, and some were seen holding pickets that said "Withdraw the U.S. Forces from Korea! They are a fundamental obstacle to achieving reunification." Demanding that the U.S. troops pull out of South Korea, participants also chanted that the South Korean government should lift the May 24 measures while the international community should ease sanctions. They also called for the resumption of the Kaesong Industrial Complex and the tourism program to Mount Kumgang.
In front of the U.S. Embassy in Seoul, located around 40 meters away from the KT Gwanghwamun building, they flied paper airplanes towards the embassy building. The paper airplanes were made up of letters of protest to U.S. President Donald Trump, which urged the Trump administration to disband a South Korea-U.S. "working group," created to coordinate talks for a denuclearized Korean peninsula and working-level discussions, and to give up on implementing hostile policies towards Pyongyang.
A large placard saying "We hope that Chairman Kim will visit Seoul as early as possible" was displayed at the rally, and five people holding pink fake flowers danced along a North Korean song whose title translates as "Nice to meet you." Other participants also chanted "nice to meet you," waving the same fake flowers, and several foreigners who were passing by the site were spotted taking photographs of the rally.
skytree@donga.com