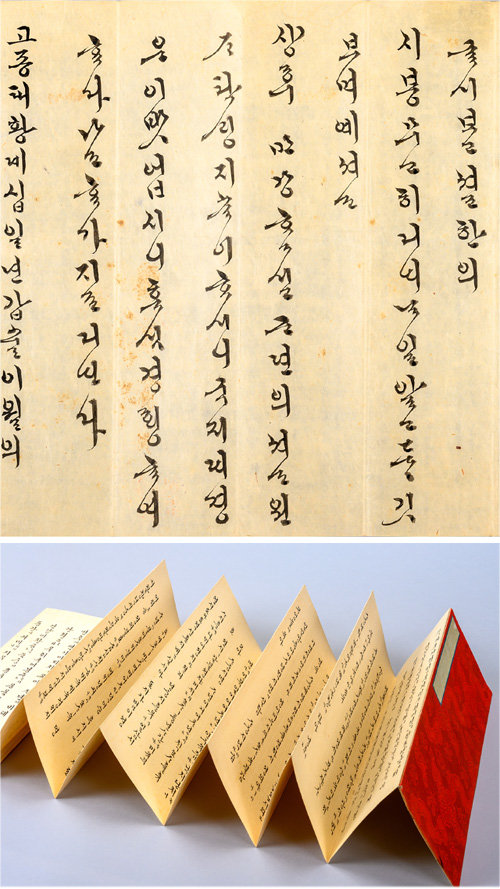 The letters written by Joseon's last princess, Princess Deokon (1822-1844), is elegant and clearly demonstrates the royal family's beautiful culture of Hangeul. Princess Deokon was Joseon's 23rd King Soonjo and Queen Soonwon's third daughter.
The Cultural Heritage Administration revealed on Wednesday that it purchased the "Hangeul Data of Princess Deokon's Family," which is comprised of 68 pieces including the "Jagyeongjeongi" and "Gyuhoon," at an auction in the U.S. last November and brought it back to Korea. It is consisted of Hangeul books, letters, and calligraphy works of three generations of the loyal heirs such as Princess Deokon, her adopted son Yoon Yong-goo (1853-1939), and her granddaughter Yoon Baek-yeong (1888-1986).
The "Jagyeongjeongi" and "Gyuhoon" gained attention among the recovered material in that the handwritten books of Princess Deokon were discovered for the first time. As the translation of what was written in Chinese characters, the books feature a beautiful court style of writing.
The Jagyeongjeongi is a book that reveals the origin of the royal Jagyeong palace that King Jeongjo built within Changgyeong Palace in 1777 for his mother, Crown Princess Hong. Gyuhoon is a type of educational book that introduces the virtues and etiquette a woman need to have.
"It is also worth considering to use a new handwriting called the "Princess Deokon writing style" as we found a new master of Korean calligraphy in the late Joseon Dynasty," said Park Joon-ho, a literary researcher of the National Hangeul Museum. "These are important data that empirically shows the role and importance of Hangeul in the communication of women in Joseon's royal family."
Won-Mo Yu onemore@donga.com