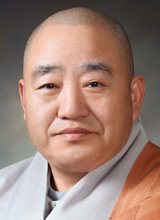 The biggest Buddhist sect in South Korea is planning to launch a temple stay program in Shingye temple on Mount Kumgang.
At a new year's press conference held at the Memorial Hall of Korean Buddhist History and Culture in Seoul on Wednesday, Ven. Wonhaeng (picture), president of the Jogye Order of Korean Buddhism, said, "We have been discussing holding a temple stay program on Mount Kumgang with presidential office Cheong Wa Dae and the Ministry of Culture, Sports, and Tourism," adding, "We are hopeful that we will be able to hold a temple stay program as we successfully completed a restoration project of Shingye temple in the past." Shingye temple is one of the renowned temples on Mount Kumgang along with Yujeom temple, Jangan temple, and Pyohun temple. After the 6.15 Joint Declaration in 2000, the two Koreas agreed to reconstruct Shingye temple and a Buddhist ceremony was held in 2007 to celebrate its completion.
The number of people participating in temple stay programs amounts to 520,000 a year and 7.4 percent of them are foreigners, according to the Jogye Order of Korean Buddhism. A temple stay program at Shingye temple will serve as a symbol of peace that attracts tourists from home and abroad and contribute to establishing peace on the Korean Peninsula. The Jogye Order of Korean Buddhism is planning to discuss constructing an additional building at Shingye temple for a temple stay program.
"I received a congratulatory message from Kang Su Rin, head of North Korea's Choson Buddhist Federation, last year when I was elected as the president," said Ven. Wonhaeng. "I will discuss this matter with relevant North Korean bodies at the inter-Korean joint event, which will take place on Mount Kumgang in mid-February."
Gab-Sik Kim dunanworld@donga.com