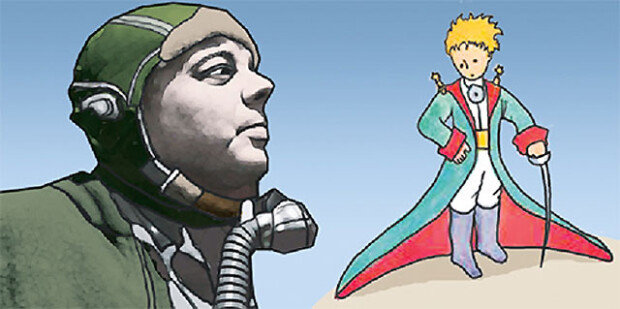 Antoine de Saint-Exupéry, a French writer and fighter pilot, volunteered to join the French Air Force at the outbreak of World War ll. He was considered unfit for a pilot as he had become disabled after multiple accidents and was over the age of 40. As a free soul, he did not act like a solider, either.
But every time he got kicked out of the military, he used his personal relationships to get back to the military. His main mission was to make scouting flights. The Lightning Flight, a military aircraft Saint-Exupéry flied, was remodeled after a twin engine fighter jet of the U.S. It was fast but unarmed and was not backed up by other fighter jets, either. In his autobiography, "The Aviator," he described the risk of reconnaissance flights. He detailed how reckless and fearful it is to go on a reconnoitering flight unarmed.
Saint-Exupéry was a member of the Recon Flying Corps stationed in Corsica. In 1944, he insisted that he would make the eighth reconnoitering flight after completing seven flights. He went missing during his eighth scouting flight on July 31, 1944 and never came back.
No one knows why he was so obsessed with flying. He was already a celebrity with fame before he died. There were many German pilots, who decided to become a pilot after reading his book. A German pilot who shot down Saint-Exupéry's plane said he would never have shot the plane if he had known Saint-Exupéry was flying it.
He could have become more popular if he had not made his eighth flight. Some people criticized him for being pro-German but his patriotic spirit was proven by his service in the Air Force.
Maybe his obsession with flight came from his conscience and a sense of obligation. Maybe it was the fame and popularity he enjoyed that weighed him down.
There are two kinds of people in the world: People who feel heavier responsibility as they rise higher in positions or have more fame and people who shirk responsibility and only enjoy power and popularity. There are more people who are like the latter, not like Saint-Exupéry. In particular, there are so many people who are like the latter in Korean society.
Eun-Taek Lee nabi@donga.com