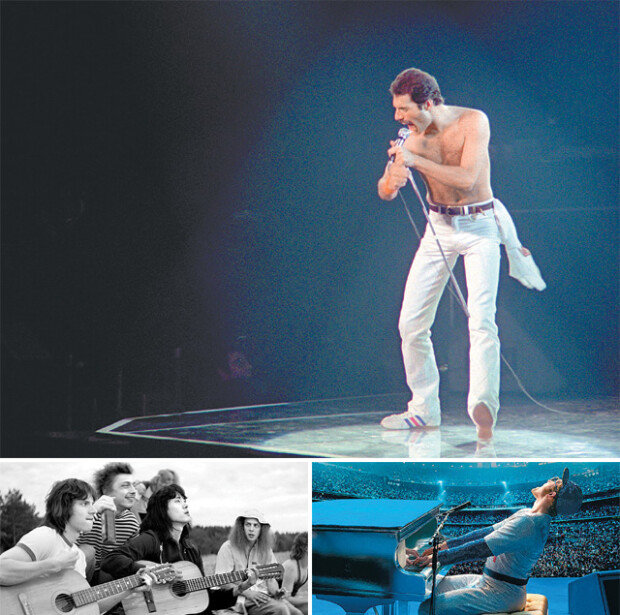 The documentary film "Coldplay: A Head Full of Dreams" was screening at a theater in Seoul on Dec. 29, 2018. The audience was clapping to the beat of "Viva la Vida," one of the hit songs of Coldplay. Some of them even hummed the song in English even though it was not a sing-along theater.
In fact, the film, which portrayed the band's story from its debut to the release of its 7th album, was screened only for a day worldwide on Nov. 14. But it was screened for two days from Dec. 28 in Korea. Moviegoers scrambled to get a ticket for the film, with the reservation rate topping 80 percent in eight theaters in Seoul. As a result, the film was screened in more theaters. "By watching the movie, the audience wanted to feel as if they're at a real live concert like the "Live Aid" in the movie 'Bohemian Rhapsody'," an official at the distribution company said.
There are moves that aim to make profit from the popularity of "Bohemian Rhapsody." A distributor "at9Film" is in talks with a Japanese distributor to re-release "Queen Rock Montreal" at the request of fans. The film, which was released in Korean in 2009, portrayed the band's concert held in Montreal, Canada in 1981. "The movie had only 19,000 admissions back in 2009 but it will attract much more viewers this time," an at9Film official said. "We're thinking of screening the film at a concert hall like sing-along theaters."
Music movies that were released recently or are about to be released are anticipating an increase in the number of admissions. The movie "Summer," which was released on Jan. 3, deals with the early life of Viktor Tsoi, Korean-Russian rock star. The movie has attracted over 10,000 viewers in four days since its release against the expectation that the film would have a poor box-office record. The movie "Rocket Man," an upcoming film based on the life of British pop legend Elton John, is being released in May. Other music films that are based on the Beatles, Journey, and Motley Crue, an American hard rock band formed in Los Angeles will hit the theaters this year.
Against this backdrop, distributors are scrambling to find another mega-hit music film. They are sharing the list of artists such as Kurt Cobain and Michael Jackson that are highly likely to become the material for a movie and sending more staff to international film festivals to find music movies. Distributors are anticipating an increase in contract price as the value of music films has soared, according to an insider. As the Sing-Along Theater for "Bohemian Rhapsody" was created at the request of viewers, theaters are trying to find more movies that can induce the participation of viewers.
Kyu-Jin Shin newjin@donga.com