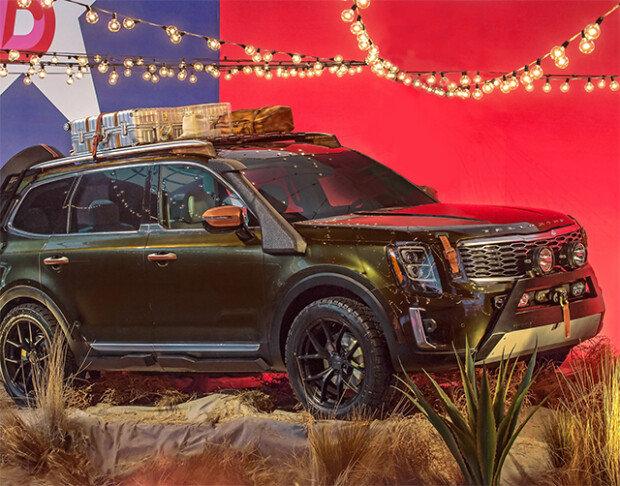 A car covered with a black shroud was what first welcomed visitors at the Kia Motors America (KMA) and the Kia Design Center located in Irvine, California, last Tuesday (local time). Its height of an adult suggested the vehicle was a big sport utility vehicle (SUV).
When the shroud was taken off, a grand, black SUV with an angled silhouette came into sight. It was the first time that Kia Motors' brand-new model "Telluride" was showcased to the Korean media outlets, as the company had disclosed the crossover at fashion events only in the United States, where it plans to launch the vehicle this year.
When it comes to SUVs, carmakers have lately preferred an agile design, which is comparable to that of sedans. This is evidenced by the fact that curvy coupe-like SUVs have gained increased popularity. Telluride, however, seemed to confront such trends head-to-head. Its roughness and wildness in design reminded one of a "classic car" in the 1980s, and camouflage would easily make it pass as a military vehicle. Kurt Kahl, Kia Motors' senior design manager, said that from an early stage of designing, the company aimed to evoke nostalgia among Americans and to come up with a big, bold, and muscular SUV.
The South Korean carmaker seeks to enhance its presence in the American market with the launch of the Telluride, and has already held a briefing for potential local customers. The customers invited to the briefing reportedly left much more favorable reviews for the Telluride than its competitors. "It was well-received especially by those who are 41 or younger," the company said.
Kia Motors is set to officially unveil the Telluride at Detroit's North American International Auto Show that kicks off Monday (local time). The brand-new SUV will be released in the United States in the first half of this year, while it is unknown whether the model will be available in Korea.
Eun-Taek Lee nabi@donga.com