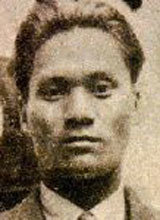 Controversy has been caused by an exhibition held in Shanghai, China where Korean martyr Yun Bong-gil (1908-1932) was referred to as an "assassin" and his heroic deed at Hongkou Park as "bombing."
The Huangpu district government of Shanghai City has recently opened a special exhibit to shed light on the history of Huaihai Lu, a popular commercial street in the city. In a section where photographs of the Yuan Changli street are displayed, it writes, "On April 29 1932 at Hongkou Park, a bombing occurred targeting a Japanese general involved in Japan's invasion in China. An assassin named Yun Bong-gil departed from the No.13 on the Yuan Changli street and arrived at the park, but regrettably, he failed in his mission."
Critics find it highly inappropriate to refer to Yun as an assassin given that China has called him patriot or martyr. Only at the last part of the introduction, the exhibit organizer said, "The martyr was caught at the scene."  
Yun reaffirmed his determination in his last meeting with Kim Gu, a founding member of the Korean Provisional Government, at the Yuan Changli street. Considering that Yoon's heroic deed at Hongkou Park denounced Japan's war-related wrongdoings and drew global attention, many people point to that the exhibition used expressions such as a "bombing incident" and "failed."
"We are figuring out whether it was a mere mistake or an intended act by contacting the organizers," Consulate General of the Republic of Korea in Shanghai said Friday.
Wan-Jun Yun zeitung@donga.com