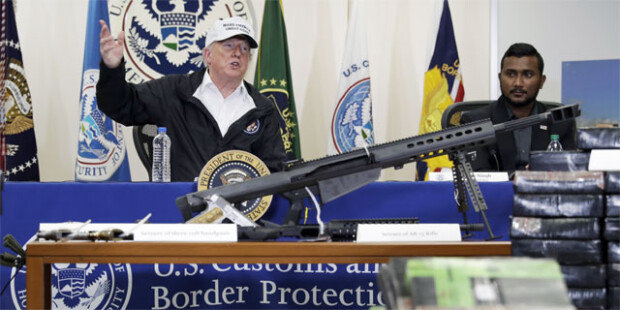 The partial shutdown of the U.S. federal government has marked the 20th day as of Thursday local time. With the White House and Democrats in extremely intense standoff, chances are high that the shutdown will become the longest in American history, beating one held during Bill Clinton's presidency that lasted 21 days.
Considering declaring a national emergency, President Donald Trump hinted his absence from the World Economic Forum in Davos, Switzerland scheduled for January 22 to 25, upping pressure on Democrats to the maximum. "I think we might work a deal, and if we don't we might go that route," President Trump said at the White House before his visit to a border facility in McAllen, Texas. "I have the absolute right to do a national emergency if I want."
If Mr. Trump declares using emergency powers, he can implement budget to protect its people and territory even without congressional approval. He reportedly has a plan to use military funding to build a wall on the U.S.-Mexico border. "Let us resolve to use our power, our resources, and our voices, not just for ourselves, but for our people," Mr. Trump said during his border inspection tour, mentioning "the great importance of Safety for our Nation."
Against this backdrop, Democrats are expressing strong opposition. The Democrats said if and when President Trump declares a national emergency, it will file unconstitutionality suit to determine the legality of his declaration. "I think the president will have problems on his own side of the aisle for exploiting the situation in a way that enhances his power," House Speaker Nancy Pelosi said.
"Because of the Democrats intransigence on Border Security and the great importance of Safety for our Nation, I am respectfully cancelling my very important trip to Davos, Switzerland for the World Economic Forum. My warmest regards and apologies to the @wef!" Trump tweeted on the day.  
As President Trump declared his absence from the World Economic Forum that is 12 days away, analysts say that U.S.-China trade talks, which were poised to find a clue to resolution, could be also affected. Following vice-ministerial meetings in Beijing from Monday to Wednesday, Washington and Beijing were scheduled to hold further talks over the issues at the World Economic Forum in Davos.
As Chinese Vice President Wang Qishan is scheduled to attend the forum, many watchers had high expectations for a Trump-Wang meeting. In the wake of President Trump's absence, however, the size of the U.S. delegation to Davos will also be reduced significantly, U.S. media outlets reported.
lightee@donga.com