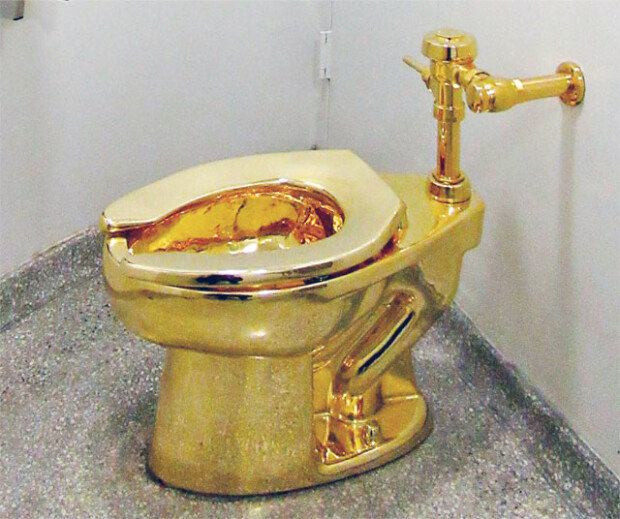 Back in 1917, French-American artist Marcel Duchamp signed with a fake name on a men's urinal that he purchased and submitted it at an exhibition in New York. It questioned whether the act of an artist choosing something rather than directly painting or making something can become art. After sufficient controversies, the critics took Duchamp's side. He was the innovator of art who proved for the first time that ready-made goods can become art depending on the choice of an artist.
Some 100 years later, Maurizio Cattelan, a rascal Italian artist, created a toilet using 18K gold and installed it at the fifth floor of New York's Guggenheim Museum. If Duchamp brought a normal toilet into the art gallery and made it into the subject of appreciation, Cattelan created an experience type art by conferring the function of toilet to expensive gold. The extravagant golden toilet that appears to exist in the top 0.1 percent upper class was installed at a public restroom in an art gallery so that anyone could use it. The artist makes the interpretation of his work as a matter for the audience but severely satires on the inequal economy, succession of wealth, the delusion of American dream within the United States, which is the largest global economic power house, through its title "America."
One year after the golden toilet was installed, the Guggenheim Museum received a request by the White House to lend it a landscape painting of Vincent van Gogh. It was to decorate the bedroom of Mr. and Mrs. Trump. The senior curator of the museum replied that it was impossible to lend them the painting of Gogh but they could lend Cattelan's golden toilet if the president wanted. The curator added saying that the toilet is an art work that also functions perfectly as a toilet and the cost of the materials per se costs over a million dollars.
It was the museum's decision that the painting of Gogh should be at a museum where everyone can enjoy rather than hanging on the wall of a few people with authority or the rich. Maurizio Cattelan also expressed his wishes to provide his work permanently to President Trump, a rich man who likes golden decoration but the White House did not send any response. If Duchamp's toilet questioned the concept of art, Cattelan's toilet makes us contemplate on the role of art in our society.