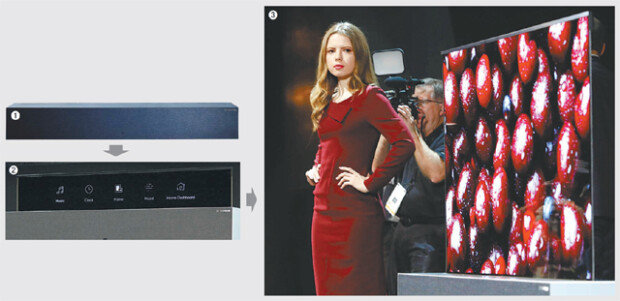 LG Electronics announced that it will launch the world's first "rollable" TV within this year. It took 20 years for Braun tube TVs to be replaced by flat liquid crystal display TVs. Now the shape of TV is transforming once again.
LG Electronics unveiled its world's first rollable TV "Signature OLED TV R" during a press conference at the Mandalay Bay Hotel in Las Vegas on Monday, a day before the opening of the 2019 Consumer Electronics Show. The 65-inch OLED TV that hides in a speaker box is fully unrolled when turned on, and rolls itself up when turned off.
Rollable TV has maximized the strength of OLED display of not having a backlight. As the OLED display illuminates itself without a backlight, rolling the display in and out does not affect the durability or image quality of display. "The durability of the rollable TV will be similar to that of typical OLED TV as it can roll in an out more than 100,000 times," said Han Sang-beom, vice chairman of LG Display.
The pricing has not been announced yet but it is expected to be over 50 million won as it is the world's first rollable TV. "Major customers for the rollable TV will be the well-off who can afford luxury interior design," an official from LG Electronics said. LG Display is planning to apply the rollable display to cars as well.
Tae-Ho Hwang taeho@donga.com