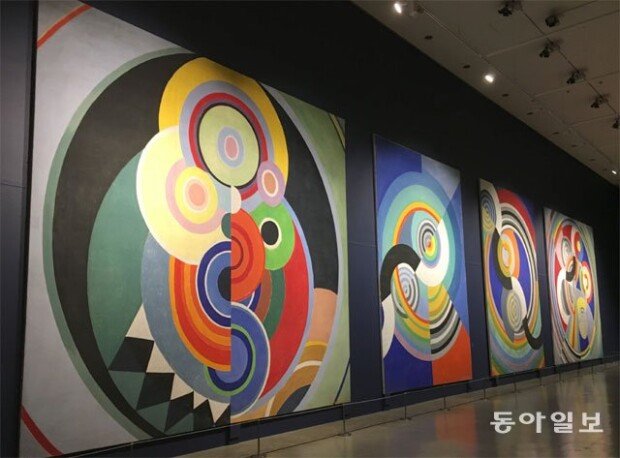 There is something you may never feel in digital, immersive media no matter how much technology advances. Traditional paintings give us the joy of appreciating the texture and delicate strokes on the canvas by looking closely at them. An exhibition is available in Korea to introduce oil paintings drawn by artists who led the golden era of Paris. The "Picasso and Cubism" exhibition is being held at the Hangaram Art Museum of the Seoul Arts Center, featuring some 90 pieces of work that are possessed by the City of Paris Museum of Modern Art.
The exhibition was planned three years ago to celebrate the 110th year of Cubism. Two landscape paintings by Paul Cézanne welcome visitors. Cézanne shocked those who came after him by drawing without perspective and in dissolved forms. Under Cézanne's influence, Pablo Picasso and Georges Braque began their Cubism works that various perspectives are expressed on the canvas. The first session of the exhibition introduces Picasso, André Derain, Raoul Dufy and others, who were affected by Cézanne. Picasso regarded Cézanne as a "mother hovering over."
The second session, which presents Picasso and Braque's cubist works are displayed, is Dr. Seo Soon-ju's favorite, who directs this exhibition. As the two artists spent most of time studying Cubism, some of their works have a lot in common when it comes to style. Taking a closer look at them, you can notice their attempts to experiment by mixing sand and paints or sticking newspaper.
The next exhibition space introduces the trends of cubists in later times such as Jacques Villon, Albert Gleizes and Jean Metzinger. Visitors can find it interesting to compare the different drawing styles of each artist who was influenced by Cubism.
Visitors can also appreciate four large-scale paintings by Robert Delaunay and his wife in the exhibition. The artworks have been moved from the Modern Art Museum of the City of Paris for the first time in 80 years. A forklift was used to move them upstairs due to their huge size, while two preservation experts were mobilized to install them. The paintings, which were commissioned by the organizing committee to decorate the sculpture room at the Salon des Tuileries in 1938, were donated to Paris the following year.
Anyone with an interest in various aspects of cubism will find it fun to enjoy the exhibition. The exhibit will be held through March 31.
Min Kim kimmin@donga.com