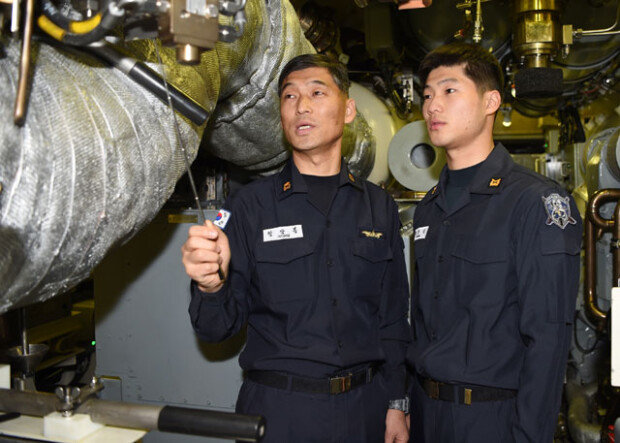 A father and son have started working together as crewmembers in the same submarine for the first time since the South Korean Navy began operating submarines in 1984.
According to the Navy on Sunday, the first father and son submarine crewmembers are Warrant Officer Jeong Sang-bong (49) and Sergeant Jeong Han-min (24), who are crewmembers of the 1,800 ton-class submarine Hongbeomdo that was inaugurated in May last year.
Sergeant Jeong was deployed on Friday to the submarine Hongbeomdo wherein his father is working as a crewmember. The father, who is in charge of engines in the submarine, has become the squad commander of his own son, who has been deployed there as an engineer.
Sergeant Jeong was commissioned as staff sergeant in February 2017. As soon as he finished one-year service on a battleship that is required to be eligible for a submarine job, he applied to become a submarine crewmember in June last year. After completing a six-month training, the son started working in the submarine where his father is serving. The senior Jeong will complete his service on the Hongbeomdo by the end of January, and switch his position to continue his military service on the ground. The father and son will serve in the same submarine together for about a month.
Warrant Officer Jeong is a witness to the history of Korean submarines. After completing a basic training course on submarines in 1996, he has been working in the Navy submarine unit for more than 20 years, including his 14-year career as a submarine sailor. A professional who has laid the foundation for operation of 1,800 ton-class submarines in the Korean Navy, he is serving as one of initial crewmembers for 1,800 ton-class submarines, which were put to combat mission beginning in 2007.
"I hope that my son will become a crewmember who follows the basic rules and think hard before taking action," the senior Jeong told his son. "When I said to my father that I would apply to become a submarine crewmember, he told me that he was proud of me for choosing by myself to become a submarine sailor, which is a tough and difficult job," the son said. "Following the footsteps of my father, who has been defending the Republic of Korea's seas throughout his life, I will defend our territorial waters watertight."
The Navy said it plans to deploy sergeant first class Jeong Su-min (23), senior Jeong's second son who is currently serving as a battleship sailor, as a submarine crewmember as well.
Hyo-Ju Son hjson@donga.com