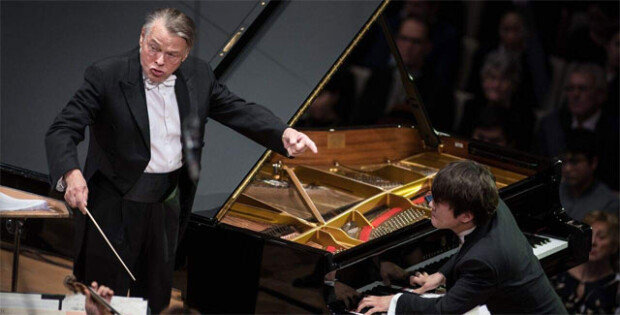 Cho Seong-jin, a South Korean pianist and the winner of the 2015 International Chopin Piano Competition, is launching a concert on Friday with Rachmaninoff's Piano Concerto No. 3 in collaboration with KBS Symphony Orchestra for the "2019 Daewon Cultural Foundation's New Year's Concert," which will take place at Lotte Concert Hall in Jamsil, Seoul.
The South Korean piano prodigy performed a charity concert Sunday with Germany's Bavarian Radio Symphony Orchestra to celebrate the end of the year. Making up for the absence of Lang Lang, a Chinese concert pianist who sustained injury, Cho Seong-jin delivered a captivating performance with the world- renowned maestro Mariss Jansons.
Peacefully gliding into the depth of listeners' mind, Cho's performance on the second movement of Mozart's Piano Concerto No. 20 left the crowd awestruck with an uncanny combination of a shadow of sorrow and a flair of humor. His performance on the Tchaikovsky Piano Concerto No. 3 was a fiesta of virtuosity. The orchestra posed a question leading off with intensified emotions, and then the Korean pianist answered with his instrument, instilling vitality into the emotions and the sense of colorfulness. When finalized, the concert saw an eruption of standing ovations from the notoriously tough crowd of Munich. After several curtain calls, Cho performed Debussy's Girl with the Flaxen Hair as encore. This journalist had interviews with Mr. Cho before and after the concert.
- I found it very impressive that you were constantly having conversations with Mr. Jansons during the rehearsal.
"Jansons is a conductor that I deeply admire, so I was very nervous and excited when we had meetings before the performance. When I was staying in Paris, I saw his every performance. I didn't know that I would enjoy this opportunity to perform with him so soon."
- The performance was very successful. How do you feel?
"In the rehearsal, Jansons pursued stability, but in the real act, he did the magic only possible in a live performance. I am both happy and satisfied that I was part of it."
- Last year, you performed on more than 100 shows globally. How are you handling it physically?
"Whenever I board a plane, I fall asleep immediately. I sleep very well. I practice every day, but always in moderation, and I also exercise to an extent that does not overwork my muscles. I am still young, so even after long flights, if I sleep well and get some good food, I feel fine again."
- This year, you are performing collaborations with world-renowned virtuosos such as Ivan Fischer and Marek Yanovski.
"There are so many orchestras and conductors with a different set of styles and colors, and it is pointless to weigh their superiority since at the end of the day, it is a matter of personal preference. I am looking forward to creating great music with the maestros that I like and admire not as a pianist, but as a fan."
Seung-Hoon Cheon raphy@donga.com