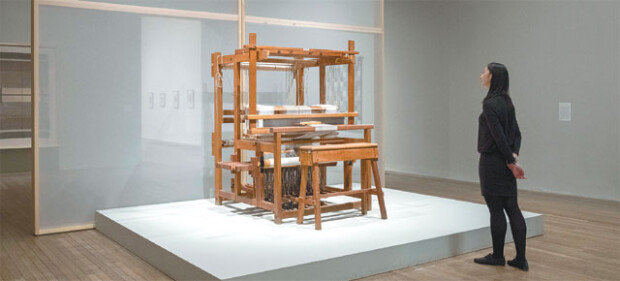 No paintings nor sculptures. There is only a huge loom that sits alone in the room, greeting visitors. On the left side of the loom, there is a giant picture of a grinning atelier staff, who has used the loom to create textiles. This is what is seen at the entrance of the Anni Albers exhibition at Tate Modern in London.
The loom sits on the exhibition of Anni Albers (1899-1994), a pioneering German-born American textile artist, because string and textile were used as material. When male artists used paint to create abstract paintings, Albers used designs as sketching and used the loom to weave strings and create textiles to express abstract art.
Beyond the entrance, there were textiles in various shapes and patterns in frames. The works resembled the works of Mondrian, when placing patterned textiles that could be usually found in bags, scarfs and carpets. Viewers followed twisty lines made with string knots and rhythmically arranged color fields to experience a new type of abstract art.
The retrospective exhibition of Albers, which is the first to be held in Britain, originated from movements to shed new spotlight on female artists. Until recently, Albers was known as a designer or mentioned alongside her husband, Joseph Albers. Her art world has been revealed through some 300 artworks.
The curation also stood out to help viewers better understand the less familiar field of art. The loom was positioned at the entrance of the exhibition, while a separate corner was prepared near the exit to allow viewers to touch various types of string. This corner was most crowded, filled with viewers exclaiming over various textures.
Albers' exploration of art, which lasted throughout her life, led to the colorful carpets of ancient Peru. Albers had been immersed in powerful visual language that was used by people in ancient times. The contrast of her geometric patterns and the primitive designs of ancient times reveal the desperate efforts of modern people who fail to escape from stereotypes and remain fixed in thinking.
Min Kim kimmin@donga.com