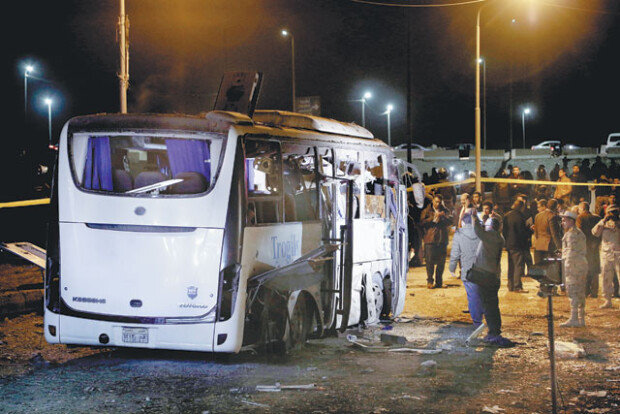 Bombing at Egypt's most representative tourist spot Giza Pyramid seized the country with terror on Friday. Armed policemen and soldiers were dispatched in downtown Cairo on the next day. It has been a year since foreign tourists were killed by terrorism in Egypt. This time, it happened at a roadside four kilometers away from Giza Pyramid. The bomb exploded at 6:15 p.m. Friday when people and vehicles flocked to streets as Egypt takes Friday and Saturday off.
The bomb was hidden on a wall by the street. The explosion shattered the bus windows and the vehicle itself was completely destroyed. Three tourists and an Egyptian tour guide were killed and 10 more are injured.
The Egyptian government announced that it shot 40 terrorists to death by cracking down on them in Giza and Sinai Peninsula. But it did not reveal if the terrorists are related to the bombing of the Vietnamese tour bus.
Egytian President Abdul Fattah el-Sisi has been cracking down on the extremist group Islamic State to reduce terrorism and revive the country's tourism industry.
Egypt's tourism industry earned 4.8 million U.S. dollars in the first half of this year, which was 77 percent higher year-on-year. More than five million tourists visited Egypt during the same period, and the number was growing to nearly 10 million for the first time since the Arab spring.
Dong-Il Seo dong@donga.com