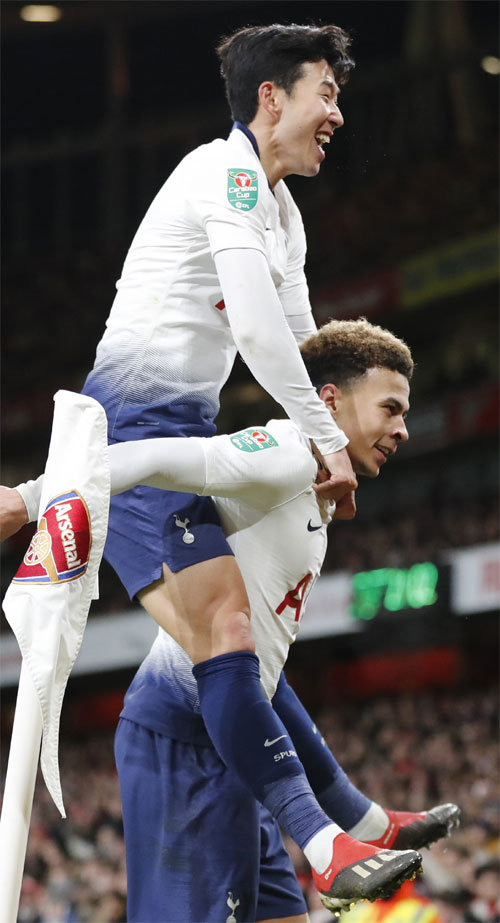 The shot quenched the thirst for football fans, raising expectations about Team Korea's performance in the upcoming Asian Cup.
Son Heung-min, the 26-year-old South Korean footballer of the Tottenham Hotspur, netted an opener in the London derby with Arsenal, securing a berth for Spurs in the 2018–2019 Carabao Cup semi-finals, which took place at the Emirates Stadium on Thursday.
It was in the 20th minute of the first half when Son found himself one on one with the Arsenal goalkeeper, before collecting a pinpoint pass from Dele Alli and netted an opener using his left foot, with remarkable focus. The opener marked the sixth scoring for the Korean striker this season. This is the first goal that Son has found against the Gunners, since his debut in the English Premier League in 2015-2016 season. Dubbed the "North London Derby," the rivalry between the two teams both based in the region always draws a heavy attention from football fans. In fact, Alli, who sealed the victory for Spurs with one goal and one assist, was hit by a water bottle in the back of his head.
Previously, Arsenal fans accused Son Heung-min of simulating a dive in the process of earning a spot kick from Round 14 of the EPL when the Gunners went head to head with the Spurs on December 3. Having earned much jeers from that match, Son silenced the Arsenal fans, proving his worth as a goal-getter.
"The previous match with Arsenal was rather disappointing, but tonight I am very happy as I've got the result I wanted," said the Korean attacker after the game. "This is very special as I've scored a goal at a place where my teammates and fans belong, so I am very happy." Thanks to the second goal from Dele Alli in the 14th minute of the latter half, Tottenham won a two-point clean sheet victory against their regional rivals. Next for the Spurs will be a two-legged semi-final against Chelsea, with a home-and-away format. Chelsea entered the semi-final round after beating Bournemouth 1-0.
Hong-Gu Kang windup@donga.com