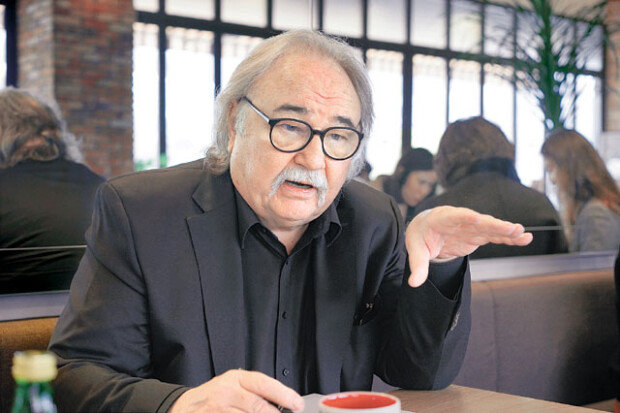 To Sylvester Levay, 73, a renowned Hungarian recording artist and composer, 1988 is an unforgettable year, as Michael Kunze, 74, a German musical theater lyricist and librettist, offered to collaborate on the musical "Elizabeth." At that time, Levay was building a successful career with pop songs and film scores. He worked with director Steven Spielberg on film music and won a Grammy Award in 1976 for his 1975 song "Fly Robin Fly." He said that his life as a musical composer started after "Elizabeth," which he called was a "turning point" in his career.
The Dong-A Ilbo met him on Thursday at the Blue Square theater in central Seoul at the "Content Insight" seminar organized by the state-funded Korea Creative Content Agency. "It is important that (when you write songs) you put the priority on the audience's interest and not be obsessed about success," he said.
He tries to have empathy with characters before writing songs for a musical. Instead of following the sequence of the musical, he writes music randomly as his mood dictates. He said he had the inspiration for the song "Ich gehör nur mir" (I belong to me) while imagining what Elizabeth felt like while being locked up in a palace. The 1992 musical portrays the life and death of Empress Elisabeth of Austria who was exceptionally beautiful but constantly tempted by death as she was frustrated by life in the royal court. "Ich gehör nur mir" that she sings in the musical is loved by woman viewers – particularly by married women. "It seems that women who are unhappy about their marriage find solace in the song while identifying themselves with the empress," he said smiling.
"Mozart!" portrays the Austrian musical genius whose liberal soul was oppressed by his underprivileged family environment and the arrogance of his powerful patrons. Levay composed music for the musical while feeling greatly burdened by the success of "Elizabeth." He visited Mozart's tomb and birth home before writing the music. As a result, he was able to fascinate the audiences with music that so adequately depict Mozart's complicated feelings while contrasting classical music with rock and jazz. Levay said he often gets his inspirations when he is on the move, adding he tries to reflect the atmosphere he feels at the places he visits into his music.
Strong numbers are his trademark. In the 2006 musical "Rebecca," the number of the same title that Mrs. Danvers sings as if screaming about the death of Rebecca is overwhelming.
Levay highly assessed Korean musical actors' singing. He remembered the names of Korean actors who played roles in "Elizabeth," including Ock Joo-hyun, who played the leading role, and Park Hyo-shin, who played Tod (Death). When he met Kim Jun-su, who also played Tod in "Elizabeth," at the Blue Square theater on the previous day, the composer praised the actor for playing an "upgraded Tod" and depicting a character who "complete my music."
Expressing his deep impression about Korean musical fans' reactions, he said he wants to create a musical for Asian audience, and an opera someday as well.
Kyu-Jin Shin newjin@donga.com