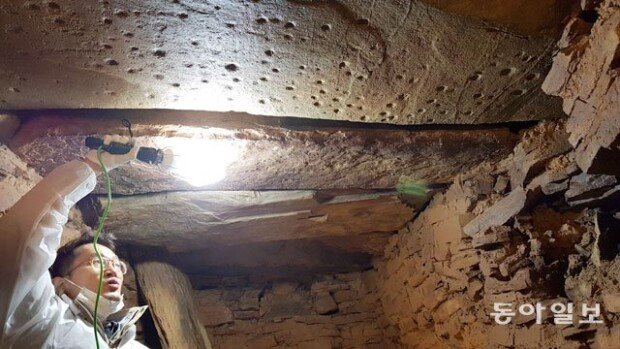 The Tomb No. 13 of the ancient tombs of the hilly districts of the Mali Mountain in Haman County, South Gyeongsang Province historic site No. 515) boasts the largest scale among the tombs of the Gaya Dynasty. It is assumed to be a place where a Gaya king who had led the golden ages of the Aragaya in the mid-5th century was buried. After passing by the entrance where one adult could barely enter, this reporter encountered a space that is 9 meter long, 2 meter wide, and 1.8 meter high. It was surrounded by clay painted in red pigment. It was the moment I faced the ancient tomb colored in red that was discovered for the first time in a shaft stone-lined tomb of Gaya.
The inside of the tomb is divided into the space for the person buried alive with the dead, which was a unique funeral culture of Gaya. It appears to be similar to other ancient tombs of Gaya but a mesmerizing scene was in front of me when I raised my head. Constellation inscribed on a rock, which marks the night sky of the Korean Peninsula with 125 big and small grooves could be seen. The galaxy including the Sagittarius and Scorpio in Western constellation filled the space.
The East Asia Cultural Properties Institute conducted excavation survey on the tomb No. 13 of Mali mountain with the permission of the Cultural Heritage Administration on Tuesday. " We found the constellation inscribed on a rock for the first time at a historic site of Gaya grave," the research institute said. The constellation inscribed rock is the remains that best and rarely demonstrates the astronomical awareness of the ancient people. It has never been discovered in the ancient tombs of Shilla and Baekje, and it was discovered in only part of the grave in Jinpa-ri, Pyongyang, which is the ancient grave of Goguryeo.
The constellation inscribed rock of the tomb No. 13 is considerably similar to the constellation of Goguryeo tombs. It means that ancient states of the Korean Peninsula maintained similar astronomical knowledge. In particular, this discovery is especially more meaningful in that it has been an investigation in exactly 100 years since the discovery during the Japanese colonial era in December 1918. Of course, that investigation was conducted in a form that is practically the same as robbery and did not even leave a report. We cannot even know how many relics were stolen.
"The recently-found constellation inscribed rock is very similar to the Celestial planisphere map (national treasure No. 288), which is the oldest astronomical chart in existence," said Choi Gyeong-gyu, the head of investigation at the Foundation of East Asia Cultural Properties Institute. "It is a groundbreaking excavation in the astronomical history research of the Korean Peninsula, which shows the innate planetarium of Koreans."
Won-Mo Yu onemore@donga.com