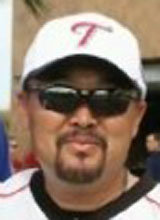 Professional athletes' No.1 asset is their physical health. South Korean Dodgers pitcher Ryu Hyun-jin, 31, has decided to work with former LG Twins training coaching staff Kim Yong-il, who has assisted Ryu in personal training when he visits Korea during the off-season period.
Ryu's domestic management agency A-Spec Corporation announced on Tuesday that Kim will join the South Korean Dodgers pitcher during the 2019 season in the United States.
Returning to his home country in fall 2016, Ryu asked Kim to help rehabilitation from two rounds of surgery on his shoulder and elbow. With permission of the LG Twins, the then coaching staff Kim assisted in Ryu's rehabilitation. Recovering from his injury, Ryu has done a great job over this season, recording seven wins and three losses with an ERA of 1.97. He became the first South Korean athlete to serve as a starting pitcher in the World Series. He visited Korea after the season was over, executing training sessions with Kim.
As Ryu accepted Dodgers' qualifying offer post-season, he is expected to earn 17.9 million dollars, or 20.2 billion won, for the next season, after which he qualifies for FA, thus having a chance of winning a greater deal.
Kim interviewed that he decided to go the U.S. as Ryu aspired to get his help, hoping to help him make greater records. Ryu and Kim will carry out personal training in Okinawa in early January before leaving for Arizona for the spring camp.
Heon-Jae Lee uni@donga.com