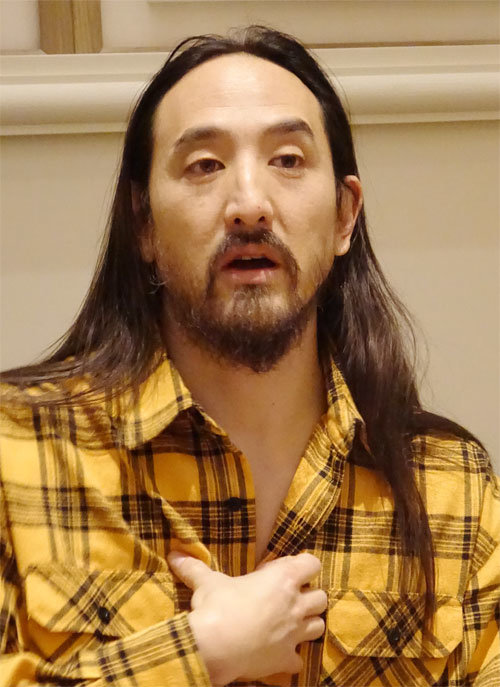 "K-Pop music is the master of being cool. It was a great honor to collaborate with BTS."
Steve Aoki, one of the world's famous DJs, visited Korea again. Raising his trademark, cake, he was welcomed by around 400 audiences shouting loud late on Sunday at Club Chroma, located in Incheon. He threw cake and sprinkled champagne over those with the "Cake Me" placard. They moved along electronic dance music, EMD, in excitement and craziness.
The Dong-A Ilbo interviewed Aoki on his second visit this year right before he began the show. He has special connections with Korea. He once said that a variety of experiments in K-Pop inspire him in many ways. He released a new song titled "Waste It On Me," in collaboration with BTS, making it his third work with the globally famous Korean boyband following "MIC Drop" and "The Truth Untold."
The 41-year-old is one of the busiest DJs in the world. He tours the world with more than 200 rounds of shows per year. He had intracordal cyst removed in surgery in 2015, which has never calmed down his passion with DJing. He is also a hold of five Guinness records including the longest chanting time period of audiences and the artist with the largest number of tours. His mantra is "I will sleep when I am dead," which is the title of a documentary film as well as a rock group Bon Jovi's song.
The Japanese American aspires to be remembered as one of the leading DJs who represent Asia. He said that he hoped to be assessed as a pioneering artist of Asian ancestry, commending that BTS members are also pioneers. He reads a lot on board despite his busy schedule. He smiled, confessing that he has recently been into Yuval Noah Harari's books "Sapiens" and "Homodeus."
Kyu-Jin Shin newjin@donga.com