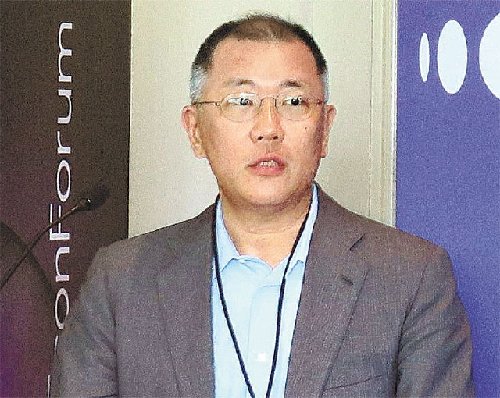 Hyundai Motor and its affiliate Kia Motors have held meetings of the heads of their foreign branches, convened by Chung Eui-sun, Executive Vice Chairman of Hyundai Motor Group, who took the helm in September. Chung stressed the importance of catering to individual markets to overcome the current crisis.
The meetings held at the group headquarters in Seoul was attended by some 50 heads of foreign branches including those who lead the group's regional headquarters or overseas corporations in charge of sales and production, according to Hyundai Motor Group on Friday. The first meetings set up by Chung since last month's executive reshuffle at foreign branches raised expectations of a transition of power within the group.
The South Korean automaker discussed ways to overcome the worst crisis it has faced since the 2008 global financial crisis. It is expected that global demand in 2019 is expected to log a mere 0.1 percent annual growth rate, due to declining demand in the U.S. market and stagnation in Europe and China. This would be the lowest growth rate since the 2008 financial crisis.
"Change and innovation all begin with 'basics.' To survive, businesses should be able to answer a basic question of who can make customers more satisfied," said Chung. "We should provide smart mobility solutions for customers by taking a step ahead."
Hyundai Motor and Kia Motors have announced that they plan to achieve a "V-Shaped Recovery" next year and focus on reviving sales and profitability in the United States and China. To that end, the group will complete the establishment of regional headquarters in major markets by the first half of 2019 to provide them with more leeway in making market-specific decisions.
"Based on the regional headquarters-centered cooperation, we should become an enterprise that offers new experiences and the highest value to our customers," Chung said. "Leaders of each regional headquarters should serve as 'accelerators' who support employees voluntarily seeking challenging tasks."
Hyoun-Soo Kim kimhs@donga.com