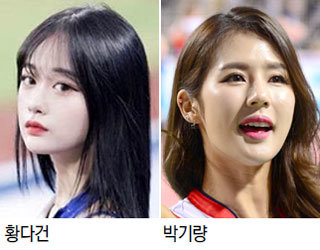 "Sexual harassment has gone too much. When I see such (online) posts, I feel like my whole day is ruined," Hwang Da-geon, an 18-year-old cheerleader for the Korean professional baseball club Samsung Lions, wrote so on her social media account together with a photo. The photo was a screen capture of highly sexually harassing posts on a popular but controversial Internet community Ilgan Best.
"Cheerleading is a nice and fun job, but is this what I get in return? I can't read the comments because they are too dirty. Please stop (sending me) graphic descriptions of (sexual) intercourses, photos or videos," she wrote. Her colleague, Shim Hye-seong, 18, also said in frustration: "(The harassers) pass the responsibility onto victims, saying we should wear less exposing clothes if we do not want get sexually harassed."
Park Ki-ryang, 27, a cheerleader for the Lotte Giants, also said on a television program: "When I worked at a company's sports gathering, a spectator who was almost my father's age demanded me to pour him a glass of alcohol, treating me like a bar hostess." She also tearfully complained that some baseball spectators take upskirt photos of her like perverts.
In the United States, a group of former National Football League cheerleaders started to act, filing an anti-sexual harassment complaint with their team, claiming that the team had consistently exposed them to verbal and physical sexual harassments without providing any protection.
Following the Korean cheerleaders' complaints, some Internet users called for doing away with the cheerleading jobs on the presidential office Cheong Wa Dae's online petition board. As of Wednesday, some 1,000 people signed in support of the petition. "The call for eliminating the cheerleading profession to prevent sexual harassment is the same as not hiring any female employee to root out sexual violence at work," said Bae Bok-joo, who leads a civic group campaigning against sexual violence. "It is important to create a culture where there is no sexual harassment and where cheerleading is respected as a profession."
yesbro@donga.com