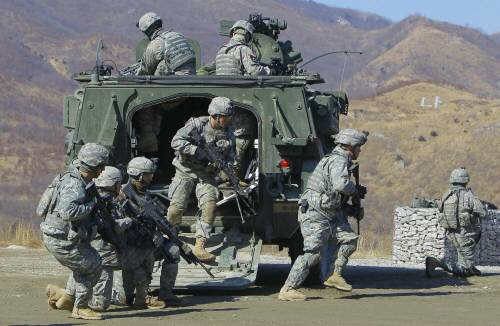 South Korea and the United States are reportedly considering renaming their annual combined exercises, Key Resolve (KR) and Ulchi Freedom Guardian (UFG). The name change of the allies' computer-based military simulations appears to reflect the military authorities' efforts to avoid needlessly provoking North Korea on a denuclearization track.
A military official said Monday that Seoul and Washington are considering changing Key Resolve into the "19-1 Exercise" and UFG into "19-2 Exercise." The two countries are also reportedly considering changing the name of "Foal Eagle (FE)," the springtime exercise which U.S. Defense Secretary James Mattis recently said will be "reduced in scope."
Giving new names to the three major joint exercises is an apparent move to tone down the nuance of these drills. The allies have used the name Key Resolve since 2008, which signifies a firm resolve to beat an enemy. Ulchi Freedom Guardian refers to those who fight for and protect freedom.
Both drills are annual command post exercises (CPX) with computer-based simulations that focus on deploying troops and equipment to prepare a possible attack from the North. They cover the defense capabilities of the military as well as counterattacks, driving out the North Korean leadership, the removal of nuclear weapons, and the stabilization of Pyongyang. North Korea has continuously accused Seoul and Washington of threatening to destroy them with the exercises. The South Korean military had earlier said that it would not hold the Vigilant Ace combined air exercise but the country's Air Force exercise in the name of the "Combat Readiness Posture Comprehensive Training exercise."
"Renaming exercises can send a message that South Korea and the United States may scale down or halt their combined drills in exchange for North Korea's actions towards denuclearization," said a military official. "It may also help North Korea and the United States break the current deadlock in their negotiation."
Hyo-Ju Son hjson@donga.com