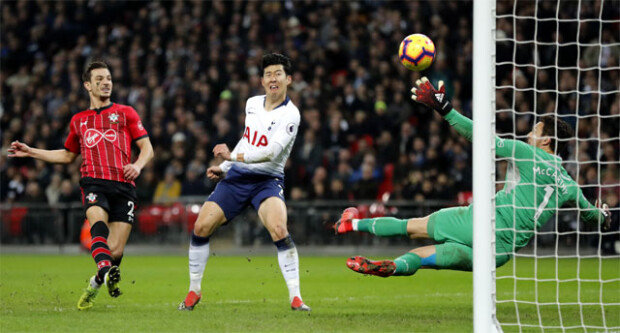 "Son's recent performance came right from the schoolboy fiction of yore," The Guardian commented on Son's 100th goal in his professional career in Europe.
Tottenham Hotspur forward Son Heung-min scored his fourth goal for the season by redirecting Harry Kane's cross 10 minutes before the second half of the match with Southampton in London, achieving his 100th goal in his professional career. It is the second time for a Korean football player to score 100 goals in the European big league, after Cha Bum-kun, former manager of the Korean national football team. Son's performance shows that he has restored his condition and confidence. Tottenham won 3 to 1.
"I wasn't aware that I scored my 100th goal while I was playing. I realized it only after my colleague Ben Davis told me after the match was over," said Son after the match. "I believe it is a glorious gift given in return for efforts to work hard."
I've never been negligent since I started my career in Europe," he said. "I have more time to play football than the time I've spent playing so far. I want to score more goals so that I can make Korea more famous in Europe."
Yun-Cheol Jeong trigger@donga.com