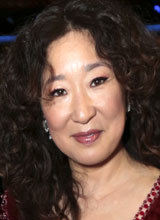 Sandra Oh, who starred in the U.S. drama "Grey's Anatomy," has been chosen to host the 2019 Golden Globe Awards.
The AP, CNN and other leading media reported Wednesday that the Hollywood Foreign Press Association chose Sandra On and Andy Samberg, the leading comedian on Saturday Night Live of NBC, as co-hosts for the 2019 Golden Globe Awards, which will be held at Beverly Hills in California on January 6 next year.
Oh had won the Golden Globe Best Performance in 2006 by an Actress in a Supporting Role for her role as Christina on ABC's medical drama Grey's Anatomy. She has been nominated five times for the Emmy Award for drama. She starred in the role of Eve, a British MI5 officer, in the British drama thriller. Oh has become the first Asian actor to be nominated for the Emmy Drama Award.
Oh has never worked with Samberg on air before, except for a public appearance as presenters for the TV comedy director award in the Emmy Awards in September this year. "Sandra and Andy are the perfect choices to host this world-class event," said NBC. "It's sure to be another unforgettable, fun-filled night."
wizi@donga.com